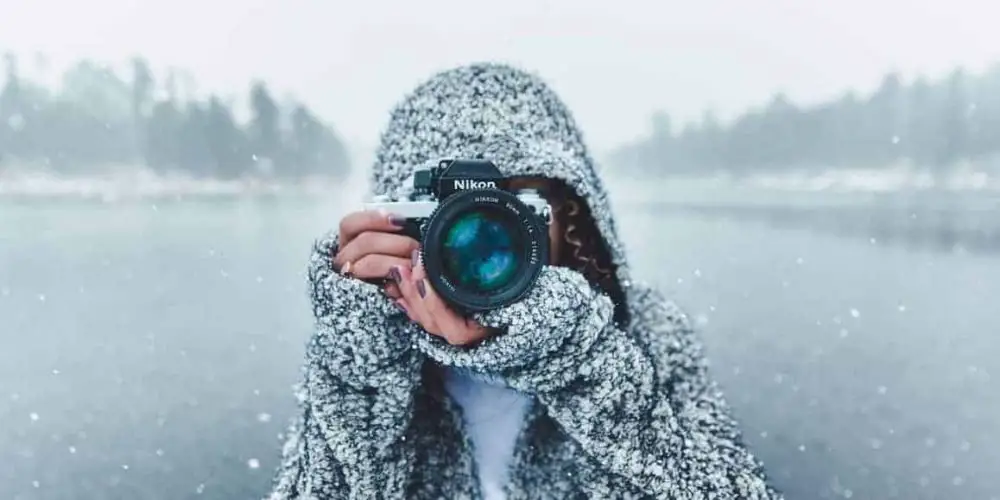 For avid birdwatchers, the most desired piece of equipment next to a pair of binoculars is a good camera.
A good camera allows you to capture the most majestic of birds in motion that will result in memorable photos. 
Photography and bird watching are ever-growing hobbies around the world and this article will aim to explain everything you need to know about the best bird watching camera on the market today!
While we all have cameras in our smartphones, they lack the quality over long distances due to poor lenses.
Here are some key things to look out for:
Key specifications for bird watching cameras
Auto Focus (AF)
Today, even professional photographers are using the auto focus or AF on their cameras. Thanks to advances in digital technology, the AF feature can help you nail a perfectly focused image far quicker than you can execute with manual focus.
The good news is that virtually all digital cameras have automatic focus along with most of the lenses.
Different brands have different types of auto focus, such as Canon and their famous dual-pixel AF that is primed for video.
You'll want to avoid cameras that have a slow auto focus function because it will still be searching when you try to take a picture or video of a moving bird.
Lens Compatibility
Generally speaking, all cameras have a mount which is designed for a certain type of lens.
For example, many Canon cameras have what is known as an EF mount.
This means that all lenses that are "EF" can be used with an EF mount camera.
Low Light Performance
The low light performance is how well the camera performs under dim conditions, such as cloud cover, dawn, or the twilight hour.
The lens does play a significant role in how well the camera picks up an image in low light conditions.
However, if you plan on shooting pictures or video under such conditions, then you'll need a digital camera that offers a wide ISO range.
The aperture or F-stop level of the lens being used is important as well. The lower the F-stop, the faster the lens which means the more light it allows into the camera.
There are lenses with an aperture of 1.2 to 1.8 which are excellent for low light situations. As you get higher, you will need to boost the ISO level to compensate.
ISO Equivalence
The ISO equivalence is related to the American Standards Association or ASA ratings for film.
Put simply, the lower the ISO number, the more light is needed to generate an image in the camera.
An ISO of 100 for example is often used for outdoor photography and videography under bright conditions.
Darker conditions generally require a higher ISO number.
The trade-off is that the higher ISO will take images or video in darker conditions, but the result will be more grains in the photo or video.
It will not be as sharp or clean as one taken with a lower ISO.
However, recent advances digital technology have resulted in noise reduction programs which help smooth out the image or video taken at a high ISO setting.
Plus, a higher ISO level will reduce the motion blur. This can help when taking photos of birds in flight for example.
The trick is finding the right ISO equivalence with the proper lens to get the clearest picture with the least amount of motion blur.
Digital Camera Sensor
The sensor on a digital camera is equivalent to the film in an older film camera. The sensor converts the optical image into an electronic signal which is then recorded into the memory card or storage.
Camera sensors come in different sizes, but the two most common terms are full frame and crop.
As implied, a crop sensor is smaller than a full frame sensor, but that doesn't necessarily mean it is worse choice.
Most professional-level cameras have a full frame sensor while prosumer and consumer-level cameras have the smaller crop sensor.
A full-frame sensor has advantages in terms of getting more information across a wider range, but otherwise the function is the same as a crop sensor.
Frames Per Second & Burst Rate
Frames per second or FPS to the number of frames in a video that is take per second of time.
The most common are 24FPS which is most associated with movies or film and 30FPS which is most associated with standard video.
Shooting at a higher frames per second rate such as 60FPS or 120FPS allows you to slow down the footage in post-production which is great for videoing hummingbirds and the like.
Burst rate refers to the number of photos that can be taken in one second. A burst rate of 6 means that 6 photos are taken per second over the length of the burst.
The higher the burst rate, the more photos that can be taken in a short time. This is often used by professional photographers and is well-suited for birdwatching as well. 
Teleconverter
This is a device that extends the range of a telephoto lens. For example, if you have a 70mm – 200mm lens which is common for birdwatching and add a teleconverter with a 1.7x zoom, that transforms the lens to a 199mm – 340mm.
However, the drawback is that the aperture is reduced which means that you will have to increase the ISO count to compensate for the lost light.
Five Things to Look for when Shopping for a Bird Watching Camera
When shopping for the right birdwatching camera, you will need to start with your budget.
You can spend several thousand dollars on a high-quality professional camera.
But unless you are shooting for a professional magazine, you can probably get away with a prosumer or even consumer-level camera if it is the right one for the job.
Stay Within Your Budget
The most important advice for any avid birdwatcher who wants to invest in a camera is that you can easily spend too much.
If you are shooting for a professional publication, then by all means invest in professional equipment.
But if you are shooting pictures or video for your own benefit, then you can save a considerable amount and still get excellent results.
Set a budget level
Remember to include accessories such as tripod, batteries, and the like
Research before you buy
Long-Zoom Lenses
It's quite possible that you'll spend more on a good, professional zoom lens than you will the camera itself.
If you are out in the wild shooting photos or videos of birds at a distance, you'll probably need a professional zoom lens that reaches to 200mm or beyond.
This gives you the zoom capacity to reach across considerable distances. Plus, you can add a teleconverter to extend the range if you want.
Tripod
In addition to the camera, you probably will want a good tripod to steady the shot.
This is especially true if you are going to video the birds. While many cameras and lenses have built-in stabilization, they are less effective the more you zoom into the subject.
A fluid-head tripod allows for smooth movement to capture the birds in action.
ND Filter
This is akin to having sunglasses for your camera lens.
A good ND filter will allow you to keep the aperture open, which lets in more light, and take a better-looking photograph or video.
Some lenses have built-in ND filters, but many do not. However, most ND filters are affordably priced and all you have to do is match it to the lens.
Extra Battery
Taking along an extra battery or two can be quite handy.
This is especially true if you spend hours out in the woods searching for birds.
Keep the extra battery in the camera bag and have it ready just in case.
The best birdwatching camera is one that fits your budget, offers the features you want, and is durable enough to hold up under different temperatures and environmental conditions.
If you can, go to a camera shop for additional advice on the type of camera that is best for your birdwatching needs.
But in the end it is your money and your time that will be spent taking photos or video of birds, so be sure to get the right camera, lenses, and accessories you need to do the job.
I have split up our recommendations between three categories below:
What is the best budget camera for bird watching?
The best budget camera for bird watching in our opinion is the Nikon D500 DX-Format. It's compact and lightweight design in combination with good specifications across the board makes it a real value for money option.
In second place is the Canon EOS 7D Mark II which is a cheaper alternative to the Nikon but still offers goods specifications – including the 10 FPS shooting speed that the Nikon also offers.
The last entry on our list is the true budget option! Priced considerably lower to its competitors, the Nikon D7200 is a great choice for anyone searching for their first camera. 
The Nikon D500 takes our top spot for the best budget bird watching camera! The Nikon DX range offers smaller and lighter DX lenses which can be important on long walks in the wilderness.
This sleek camera offers great portability that doesn't sacrifice image quality – the 20.9 Megapixel CMOS sensor offers great detail, colour and texture.
This camera offers exceptional low-light photos considering its price tag.
With an ISO range of 100-51,2000 expandable to Lo 1 and Hi 5 (50 – 1,640,000 equivalent) and an exposure value of -4, the Nikon D500 will take detailed photos in the gloomiest of conditions.
Arguably the most important feature for avid bird watchers is the autofocus.
The Nikon D500 contains the new EXPEED 5 processor that processes images up to 10 frames per second – ensuring that any restless or moving bird can be easily captured.
Paired with the new Multi-CAM 20k autofocus system, this compact camera is fully equipped to capture quality photos on the go as it provides 152 AF Points and 99 cross-type points.
Additional Features:
SD Card Slot
2" tilting LCD touchscreen
4K UHD video
Built-in Wi-Fi & Bluetooth
Conclusion:  Versatile, durable and portable – this camera has many features that are attractive for bird watchers.
For a very reasonable price the camera offers quality photos with good autofocus and low-light features. As an entry level bird watching camera you won't go wrong with the Nikon D500 DX-Format.
The Canon EOS 7D Mark II takes our second spot in the budget category. Built of lightweight and rigid magnesium it is both durable and lightweight.
It has a rugged shutter that is built to withstand up to 200,000 cycles and operates in a blink of an eye – 55msecond shutter release time lag.
Capable of taking pictures at 10 frames per second, this camera offers speedy capturing at great quality.
Combining the 20.2MP cropped APS-C sensor with dual DIGIC 6 image processer with the fast AutoFocus capabilities (65 AF Points) of the Canon EOS 7D creates high-resolutions images under any conditions.
Its low-light capabilities are also great – an ISO range of 100 to 16,000 which can be expanded to 50- 102,400 will ensure that your picture quality doesn't deteriorate as light dwindles.
The Canon is known to compensate for any flickering light to minimize disparities in color and exposure.
Full HD video (60 FPS)
SD and CF Memory Card Compatibility
Built in GPS
Conclusion: A compact and lightweight camera that offers everything you'd want in a durable and portable camera for bird watching.
It is a cheaper alternative than the Nikon D500 but does sacrifice on features such as built in Wi-Fi.
For the price, this is a great entry level camera that will capture great photos of birds in motion.
The Nikon D7200 is by far the cheapest camera that has made our list and is a fantastic entry level camera for anyone looking for their first camera.
This extremely lightweight camera is both portable and compact – perfect for a day out hiking and bird watching.
The Nikon D7200 has the EXPEED 4 image processer and the cropped APS-C senor which can produce great photos under testing low-light conditions.
The ISO range is between 100-25,600 and can be expanded to 102,400 but only in black and white.
The Nikon D7200 offers a very respectable 51 Point AF that will offer crisp and clear photos of fast-moving objects.
The camera contains a 24.2 MP DX-format CMOS image sensor that can shoot at 6FPS.
The camera contains built in Wi-Fi which is astounding considering the price.
This will allow it to connect to many devices making sharing and transferring photos an easy experience.
Conclusion: A fantastic entry level camera that is geared for bird watching. Portable, compact and lightweight, this camera is perfect for long hikes.
It will not produce pictures of the quality of the Nikon D500 but it does come at a fraction of the price.
If you're new to cameras and bird-watching this budget camera might be perfect to get you started!
What is the best Mid - Range camera for bird watching?
The best mid-tier camera for bird watching in our opinion is the Canon EOS 5D Mark IV.
It's a fantastic camera that just outshines it's rival – the Sony a99II 42.4MP. It offers a superior LCD in both size and resolution as well as touch sensitive buttons that improves usability.
However, it does offer less shooting speeds at 7fps in comparison to the 12fps that the Sony offers.
This is a crucial specification when bird watching as it can be the difference between capturing a the perfect picture of a bird in motion or not.
These two cameras are great and can only be split on which specifications you as a user prioritize!
The Canon EOS 5D Mark IV is a Mid-Tier Full Frame DSLR that offers some fantastic specs for its price.
It delivers crystal-clear still pictures as well as 4K videos. It's 30.4 Megapixel full frame sensor works alongside the 61-Point AF system to produce stunning pictures.
It has an ISO range between 100–32000 (expandable to 50–102400) which will produce clear picture in the dimmest of lights.
The Canons sensor has an improved S/N ratio plus which improves noise-processing to help deliver quality pictures in low light.
One of the best features of the Canon is its video recording capabilities.
Recording stunning 4k videos in 30FPS, Full HD Videos at 60fps and Standard HD at 120fps – this camera offers versatile options for all situations.
The camera features a 1.62million dot, low-reflection 3.2" LCD touch panel which is easy to use and facilitates fast operation in tough conditions.
It has a customizable Quick Control screen which can be very useful to switch between camera settings at a touch of a button – saving you a few extra seconds that might be crucial when trying to capture a restless bird.
The camera also offers built in GPS, Wi-FI and NFC (Near Field Communication) which makes file sharing easy and hassle free.
Conclusion: This fantastic camera offers  great specifications for a very reasonable price. Its lightweight and compact design is perfect for travelling.
It takes quality pictures and offers amazing video capabilities. Its low-light and AutoFocus features are exceptional and make the Canon EOS 5D Mark IV one of the heavy hitters in the mid-tier bird watching camera category.
Finally, an entry on the list that is not Canon or Nikon! Sony has deservedly earned its place with the fantastic Sony a99 II.
This updated model is compact and smaller than its predecessor. Its build is strong, durable and comfortable and its specifications are impressive.
The 35mm full-frame Exmor R CMOS sensor produces incredible 42.4megapixel images and 4K video.
The camera features a back-illuminated structure that allows for fast readout of data while the copper wiring layer (usually aluminium) allows for faster transmission speeds.
The Sony a99 II has an ISO range of 100-25,600 that is expandable to 50 – 102,400 which allows for fantastic low-light pictures up to an EV of -4.
Arguably the best feature on the Sony is the worlds first 79 hybrid AF cross-point array 4 for unmatched AF tracking.
Without getting into too much technical detail, the Sony has fully selectable hybrid cross points which allows the camera to capture any moving object or animal with astounding precision.
A perfect feature for bird watchers where capturing fast moving birds can often be challenging.
The Sony also provides market-leading BIONZ X image processing engine and a new shutter unit which allows for shooting speeds up to an impressive 12FPS.
The high-speed continuous shooting mode will produce at a full resolution of 42.4MP and will be available to view immediately after shooting thanks to the large buffer. 
The Sony also records video in 4k at 30fps, Full HD at 60fps and standard HD at 120fps.
Wi-fi is built in and is additional to the NFC which makes connectivity to other devices for file transferring seamless.
Conclusion: The Sony a99 II offers fantastic specifications at a competitive price.
In comparison to the Canon EOS 5D Mark IV it is slightly more expensive but does shoot at an FPS of 12 instead of 7.
This could be a crucial advantage to capture birds in motion and would be enough for many to buy the Sony ahead of the Canon.
Both cameras have their advantages and disadvantages, but both are fantastic cameras that can only be split based on the personal preference of the buyer.
Regardless, the Sony a99 II is a beautifully made camera and would be a fantastic piece of kit to take travelling and more specifically, bird watching.
Better moiré control

Better low-light sensitivity:

 Doesn't need as much light  to produce good images 
Brighter framing: Clearer and lag-free composition due to an optical viewfinder

Bigger screen

: 3.2″ vs 3.0″

More detailed LCD

: Rear screen resolution: 1620k vs 1229k dots

Fewer buttons

: Touch-sensitive screen helps handling and ease of use

Better time-lapse feature

: Uses an intervalometer which enhances low frequency shooting

Longer lasting:

 Can take more shots (900 versus 490) on a single battery charge.
Internal GPS sensor

More advanced USB port:

3.0 vs 2.0
More megapixels

: 42.2 vs 30.1MP – a 18% boost to linear resolution 

Maximized detail

: No anti-alias filter means the sensors full resolution is captured.

Larger viewfinder image

: Viewfinder magnification is 0.78x vs 0.71x

Flexible LCD

: Full flex screen which allows odd-angle shots
More selfie-friendly: Screen can be turned to be front facing

Higher frequency burst

: 12 vs 7 flaps/sec

More Compact

: 143x104mm vs 151x116mm

Sharper images

: Built-in stabilization technology
What is the best high-end camera for bird watching?
The best high-end camera for bird watching in our opinion is the Nikon D5 . For this price you're expecting the best of the best and that is what the Nikon offers.
Its superior battery life, ISO Range, Colour Depth and LCD screen resolution is some of the reasons why we believe it tops it's closest competitor  – the Canon EOS.
However, on the other hand the Canon EOS offers built in GPS, Faster shooting (14FPS vs 16FPS) and has better performance in low light ISO.
It's difficult to split these cameras as they both excel in their own areas but for us, the Nikon does offer everything we are looking for in a bird watching camera. 
The Nikon D5 is a power-house in the action photography market.
This FX-format DSLR is pushing the boundaries of technology as it has significant improvements in sensor design, autofocus, metering and image processing.
The low-light capabilities of the Nikon D5 is astounding as it has an ISO range up to 102,400 that is expandable to an unheard of 3,280,000.
This enables the D5 to produce great pictures in near-dark conditions.  
The camera will capture the fastest of movements due to its precise AF detection and tracking across the whole ISO range.
It has a continuous fast shooting speed of 14 fps which will give you a great chance of capturing a bird flying in motion.  
The D5 has a the EXPEED 5 image processor and an additional processor that is dedicated to just the autofocus.
This ensures that the pictures are vibrant, colourful and rich.
The Nikon also boasts an impressive capability for video recording.
Stunning 4k video time-lapses along with 4k recording at 30fps, and Full HD at 60fps ensures that the D5 can satisfy your video needs.
One of the main advantages of the Nikon D5 over many of its rivals is the battery life.
Capable of producing above 3,500 photos per charge is incredibly useful when travelling light and in remote areas.
Conclusion: This flag-ship camera is only recommended for the keenest of photographers.
Its low-light capabilities along with its autofocus and 12 FPS shooting rate makes this an incredible piece of kit for bird watching.
It comes at a price that represents its quality – if you're looking for the best bird watching camera money can buy, you might be looking at it.
The Canon EOS-1D X Mark II is one of the best action cameras money can buy.
It offers a staggering 14fps continuous shooting mode (up to 16fps in Live View Mode) and a 61-point AF system.
It also offers the best video capabilities of all cameras on this list – filming in 4k at 60 FPS.
This versatile camera will perform to professional standard at under any conditions.
The main body of the camera is made of rigid, magnesium-alloy that seals its ports from all types weathering.
It has a fast AF/AE system and Dual DIGIC 6+ processors that ensures the camera operates precisely and quickly.
The EOS-1D has a 20.2 Megapixel full-frame CMOS sensor that excels in low-light conditions due to its gapless micro-lenses.
This results in noise reduction in dark section of images even at high ISO Speeds. The ISO range is between 100-51200 and can be expanded to from as low as 50 to 409,600!
The Canon has a dedicated ISO menu where maximum and minimum ISO settings can be specified, which offers great versatility for the user.
These features are only the tip of the ice-berg when it comes to the EOS-1D.
Many more can be found by following the link to the product page.
Conclusion: The top of the top-of-the-range. The crème de la crème of cameras for bird watching.
It has all features one would desire and many more. It's staggering 16FPS shooting speed means that capturing birds in motion has never been easier.
It's low-light capabilities are staggering and ensures that crystal clear pictures can be taken in the darkest of caves and forests.
With such quality comes a hefty price tag, however when comparing other cameras in the same price bracket, we believe that the Canon EOS-1DX Mark II is a fantastic buy.
More megapixels:

20.2 vs 20.8MP
Higher ISO range: 102.400 vs 51.200 
More Focus Points: 159 vs 61

Higher Resolution Screen:

2.359k dots vs 1.620k dots
Battery Life: 3780 shots vs 1210 shots
Lighter: Save 0.2lbs in weight
Has TimeLapse recording feature

Greater Colour Depth:

25.1 vs 24.1
Illuminated Buttons
Built in GPS

Better Continous Shooting Mode:

14FPS vs 16FPS
Higher Dynamic Range: 13.5 vs 12.3
Better Low Light ISO: 3207 vs 2434
Higher Video Resolution: 4096 x 2160 vs 3840 x 2160
Higher Autofocus at f/8 aperture: 61 point vs 15 point
We are avid bird-watchers who recently retired, allowing us more time to travel the world. Fortunately, we have managed to visit numerous countries around Europe, Asia, and America. Watching and photographing birds has been a passion for many years and we are making the most of the extra time on our hands!