Best Mid-tier Binoculars:
Best High-End Binoculars:
 Birdwatching is a popular activity around the world. Catching a glimpse of rare and majestic birds is an unforgettable experience however sometimes you need a little helping hand. 
Birdwatching binoculars are a key piece of equipment that most avid birdwatchers wouldn't leave the house without. Many birds are elusive and shy and will hide high in tree canopies or across a hazardous wetlands, this is where good binoculars will allow you to admire the beauty of birds without disturbing them. 
This article will highlight some key features in bird watching binoculars to look out for as well as give our opinion on the best bird watching binoculars money can buy!  
What should you look for in a bird watching binocular?
Magnification and Lens Size 
Often confusing for beginners, these numbers are always present on any type of binoculars. For example a binoculars might state that it is 20×42. The number 20 stands for the magnification (zoom) and the number 42 refers to the lens diameter in mm.
A magnification of about 10 is perfect for bird watching. Stability can become an issue with the higher magnification unless the binoculars are secured using a tripod. 
With a stability of 10x, this means that a bird that is 100yards away will look like it's only 10 yards away – perfect! Some of the higher end binoculars will come with two magnifications that can be extremely handy depending on the environment.
The size of the lens dictates how much light is allowed in. This produces a clearer, brighter and better viewing experience. However, with a larger lens you do lose portability. 
A large lens will increase weight and size of your binoculars considerably which is important when hiking for hours with it swinging around your neck. 
A rough guide to follow is that you want the lens size of your binoculars to be around 5 times that of the magnification strength – A 7x35mm or 8x40mm are rough estimates of what is sensible.
 The reason why the multiple 5 is used is because this is found to be the best multiple for the amount of light needed to view magnified images.
Field of View (FoV)
 The field of view is a metric that measures how wide the image that your binoculars show. A binocular with high magnification will mean that the field of view is small and visa versa. 
So, what's the difference between FoV and magnification? Honestly, very little…FoV is simply the metric that measures how much area is visible through the circular lens of your binoculars. 
This is strongly corelated to the magnification. The field of view statistic will only vary slightly between models of the same magnification.
Closest focusing distance
Now this category might be easier to understand! This is the minimum distance required before the binoculars will focus. 
This might not seem all that important but I will state that if the majority of your bird watching is in dense woodland, where bird viewing distances is largely small, consider a binocular with a very small focusing distance and low magnification.
Eye Relief
This is the perfect clearance distance between your eyes and the binoculars. Why does this matter? The honest answer is it doesn't unless you wear glasses.
If you wear glasses while using the binoculars you will be looking to get a binocular with a minimum of 16mm eye relief. This will allow for the extra thickness of the glasses to be accounted for and should not affect the clarity of your image.
Fogging & Waterproofing 
These are two characteristics that are very important for bird watchers. Bird watching hikes can take hours and unfortunately, some end up with getting soaked by a freak rain shower. 
A rugged, durable and weather proof binoculars is in my opinion key.
A fog proof binocular means that the lens has been sealed by an O-ring. This will not allow moisture or dust to get in and will keep your image clear in bad weather. Some binoculars will state some gases such as Nitrogen and Argon. 
All this means is that these gases are contained within the lens and will further improve the anti-fog of your lens.
Lens type 
Lenses will be coated with anti-reflective will reduce the amount of glare coming though the binocular. A well-coated lens will turn the glare into light and create a better image. 
However, do not get mislead by marketing jargon. All binoculars will be coated in one way or another, but to deduce the quality, there are four types of anti-reflective coating.
Coated: A single layer on at least one lens.
Fully-Coated: A single layer on all air-to-glass surfaces.
Multi-Coated: Multiple layers on at least one lens.
Fully Multi-Coated: Multiple layers on all air-to-glass surfaces. 
From worse to best, these classifications of lens coatings will give you a good idea of how well a binocular will deal with high amount of glare.
Fully multi-coated lenses are the best but are likely to only feature on the high-end models.
What are the different types of binoculars?
There are two mechanism that binoculars use to produce their magnified image – Roof Prism and Porro Prism.
The Roof Prism
The Roof Prism is a series of prisms that overlap very closely together and means that the lenses are lined up directly between the eye and the target image. 
The benefit of these binoculars are that they are slim, compact, easier to hold and generally more durable. They do however usually come at a premium in comparison to Porro Prism binoculars.
The Porro Prism
The Porro Prism has a lens that is offset from eyepiece. They tend to be larger but do offer greater depth perception and wider field of view when comparing the same magnifications. 

They do also come slightly cheaper than their Roof counter parts.


What is Prism Grade? There are two terms that you might see pop up when reviewing binoculars and these are the BaK-4 and the BK-7 prism grade. The BaK-4 is considered the superior grade and is created from Barium Crown Glass. 
It offers better light transmission than the BK-7 grade. The BK-7 is created from borosilicate glass and comes with a cheaper price tag.A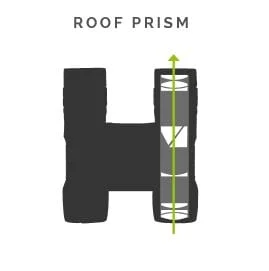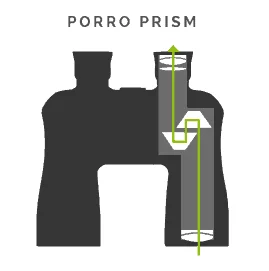 What are compact Binoculars?
Compact binoculars will have a small lens size (20-30mm ish) due to weight, size and practicality. There is a strong argument to be made for compact binoculars for bird watching but it really is up to your personal preference. 
They will certainly make a difference on long hikes and when travelling abroad to bird watch.
Portability is not to be underestimate however it might not matter to you personally. It is worth noting that the smaller lens will not allow as much light in and will in turn reduce the quality of your image ever so slightly. 
However, depending on the specification and budget, you might be able to afford a compact binocular that has amazing image quality.
For this article I will split binoculars into three different budgets:
What is the best budget binoculars?
The best budget binoculars for bird watching will be durable, portable and offer appropriate magnification for bird watching. Our personal choice are the Nikkon 8250, Opticorn Adventurer WP II and the Celestron 71332 nature DX. 
As an entry level binoculars you're looking for good specifications at a reasonable price. These binoculars offer exactly that and are perfect for anyone buying their first binoculars!
The Nikon 8250 comes with a 16x magnification zoom and is versatile and ergonomic. A 16x magnification is perfect for flat wetlands or lush fields. Consider the x10 magnification of the same model for denser areas such as woodland. 
A large lens size will allow more light in and produce a better picture. Weight does not reduce drastically as lens size is lowered in this model of binoculars, stick to the x10 & 16x magnification.
Retailing at a very affordable price these binoculars offers great image quality, lens coating and weight for a very fair price. The only negative we can find is that the lens cap can fall off easier than other models.
This model of binoculars comes with the perfect ratio of magnification to lens diameter we are looking for (>x5).
Compact and extremely light, it is very hard to find a negative about these binoculars. Fully multi-coated lens to ensure that glare is transformed efficiently into good picture clarity. For their price these feel like a bargain and offer specification that high-end models would envy.
The Celestron 71332 binoculars are a well-rounded pair that provide fantastic specification for a very reasonable price. With a magnification of x8 and a lens diameter of 42mm, these binoculars will give you versatility in every environment. 
Weighing in at a good weight of 28oz, the binoculars are rubber armored and water proof to ensure durability. Fully multi-coated optics is a great addition which will ensure glare is efficiently converted into image lighting. Comes in a dark green colour, in my opinion these are a great looking pair of binoculars. 
What is the best Mid - Range binoculars?
The best mid-range bird watching binoculars are the Nikon Monarch 5, Nikon Monarch 7 and the Zeiss Terra ED.
If you're buying a mid-range binoculars you will likely know what specifications work well for you and looking to upgrade from an existing binoculars. 
Lightweight, high quality lens coating and eye relief are some of the things to look for in this budget range.
The Nikon Monarch range is an extremely popular range of binoculars and for good reason.
The Monarch 5 version is the mid tier version and offers fantastic specifications (for not a lot more than the budget options!) At $275 these classic binoculars should be on everyones list.
Built with Nikon's famous ED extra low dispoerssion glass lenes, these binoculars will correct chromatic aberrations across the furthest limits of visable light range – giving you fantastic clarity and image quality.
A controversial choice, but the Monarch 7 comes in at second place.
The Monarch 5's better brother offers fantastic value but at an increase in price.
What do you get extra? The Monarch 7 comes with a range of accessories that include a tripod, mono-pod, harness and lens cleaning system. This binoculars offers amazing clarity of image with it's gigantic 460 FoV and weighs in at only 23 oz. 
It is extremely comfortable to hold and just like its Monarch 5 brother, known for their durability. Splitting these the Monarch 5  and 7 is incredibly hard but I had to give the Monarch 7 2nd place as not everyone will want the added accessories. 
Zeiss are a well know bionculars brand for high-end binoculars. This is their entry-level model, the Terra. Known for their durability, Zeiss binoculars are extremely waterproof (100 mbar) and can resist heat of up to 140 Fahrenheit.
Hydrophobic multi coating ensure an amazing clarity of image. This sleek design combined with its incredible specifications and comfort makes it a big player in the mid range market. Grabbing a Zeiss for this price is definitely something worth considering.  
What is the best High-End binoculars?
The high-end tier is for the keenest of bird watchers. Our top 3 high-end bird watching binoculars are the Canon Image Stabilization III, Zeiss Conquest and the Swarovski SLC.  If you're always hiking and bird watching then you might want the best equipment money can buy! 
These binoculars will have immaculate specifications across the board and many will specialise further in conditions such as low-light and winter. Often lightweight, durable and comfortable, these truly do offer the best viewing technology can offer. 
Our number 1 spot is taken by Canon's image stabilization III binoculars. For this price you expect your binoculars to do more than magnify, and these do exactly that. 
This model uses a 12×36 – slightly larger magnification to lens size ratio than what bird watching binoculars tend to recommend, however due to the image stabilization, these binoculars get away with it. With a battery life of 9 hours, these will easily provide you with a full day of bird watching.  
Considering the technology embedded in these binoculars, they are still extremely light and compact. They use Canons world renowned optics to provide the best image quality money can buy. These are an amazing set of binoculars that will be with you for life. 
A close second is the Zeiss Conquest. It's younger sibling, the Zeiss Terra made it into the mid-tier category but the Conquest is yet another improvement. 
These fine binoculars are crafted by German engineers that excel in optics. The focus knob is exceptionally smooth and makes for easy, accurate and fast adjustments to ensure the clearest of pictures.
The Zeiss Conquest have a compact and light design which make them a joy to carry around. Zeiss coat their lenses with extremely high quality coating that transmits 90% of light – making them exceptional in low light.
Durable, comfortable and oozing quality, these piece of German engineering are a dream item for many bird watchers. 
It would not be a list of the best binoculars you can buy without an entry from the elegant Swarovski SLC. These binoculars ooze class and quality (and you'd hope so for the price tag!). 
Razor sharp image quality and HD optical system makes the clearest of pictures in the lowest of lights. A large field of view with the famous Swarovision technology provides unprecedented peripheral definition that is rivaled by few.
 The binoculars are extremely comfortable, balanced and durable. These are, in my opinion, the finest binoculars you can buy for bird watching. However, they only take our third place due to the price tag. 
We are avid bird-watchers who recently retired, allowing us more time to travel the world. Fortunately, we have managed to visit numerous countries around Europe, Asia, and America. Watching and photographing birds has been a passion for many years and we are making the most of the extra time on our hands!