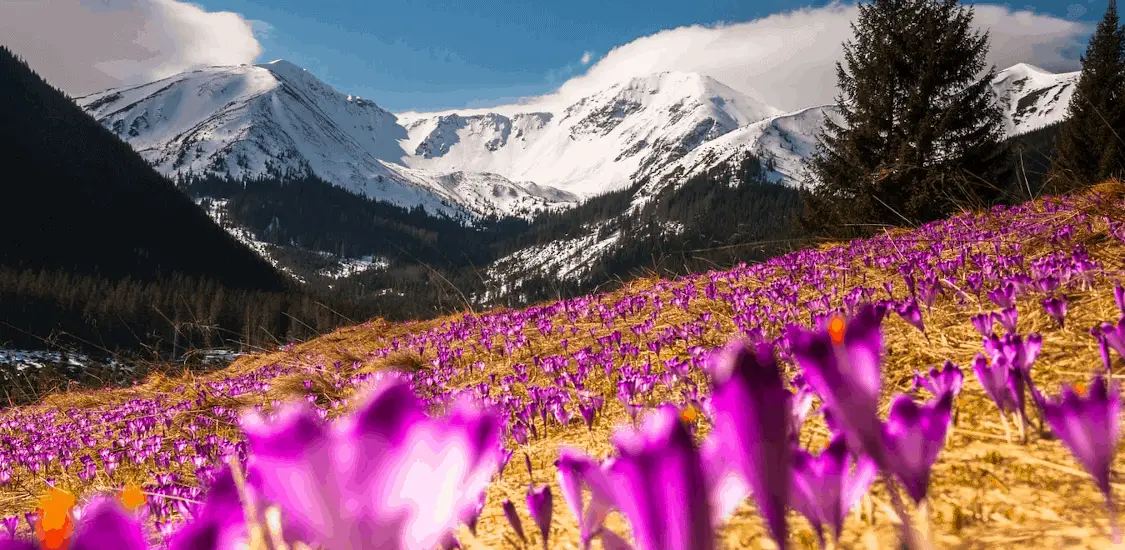 Bird watching or birding is a unique recreational activity that has been practiced since time immemorial. Birds have been a central theme for activities such as "bird watching" among Hindu, Egyptian and Mayan civilizations. Even in modern times, this hobby is quite popular in countries such as Britain, United States, Philippines and many more. Observing live birds in their natural habitat is a fantastic pastime for all ages. Some people prefer watching and enjoying birds in their natural habitat while taking a leisurely stroll but some of us it as a serious activity – witnessing a memorable collection of birds from all corners of the world.
Bieszczady Mountains: 
Not typically a tourist destination, Bieszczady Mountains is not for first timers. It usually suits experienced tourists, those who can take the risk. This mountain range is located in the extreme south-east of Poland extending into regions of Ukraine and Slovakia, fondly named as "Wild East" by Polish tourists. This is one of the most scenic places in Poland. Not only is the majority of bird populations located here but also animal wild-life in general – which includes bears, lynx, beavers, wolves, red mountain deer and more.
This pristine area is specifically known as a bird-watchers paradise as here you will find nine species of Woodpecker (inclusive of Syrian, White-backed and Three-toed), Black Stork, Collared and Red-breasted Flycatcher, Hazel Grouse, Ural and Pygmy Owls and both Lesser Spotted and Golden Eagles. People come from many different countries just to experience a bird watching hikes on Bieszczady Mountains. The destination itself is full of amazing birds but keep an eye out on the journey there and back – the whole area is filled with unique species of birds only native to Poland. 
Bialowieza National Park: 
It measures up to 580 square kilometers and the ancient woodland continues across the border into the country of Belarus. The core of the forest which covers almost 50 square kilometers of area is an unmanaged 'Strict Reserve' and it is here where you can genuinely have a primal experience; dark, dense forest, huge trees which is an abode to complete natural diversity of wildlife including mammals such as European Bison or Wisent.
The rich birdlife includes many Collared Flycatchers together with Pied and Red-breasted Flycatchers in full song. Sometimes an Eurasian Pygmy Owl or a Nutcracker can be seen on tours. Icterine, River, Barred Warblers and Marsh Warblers, Thrush Nightangle, Red-backed Shrike, and Common Rosefinch are observed along the woodland margins. Both species of stork, Honey Buzzard and Lesser Spotted Eagle are a few other names of typical birds found in the Bialowieza forestry.
Biebrza Marshes: 
These marshes offer some of the best bird watching experiences in Europe. The surrounding area is known as Siemianowka Reservoir. You can find Citrine Wigtails in this area found breeding in spring season. It is a rather shallow reservoir, that allows a large amount of water birds to dwell, for instance Eurasian Bittern and Garganey. In addition to that, the nearby farmland is an ideal habitat for Blue-headed Wigtails, Ortolan Buntings and Montagu's Harriers. You can also find white tailed eagles here as well.
Biebrza Marshes spreads over many kilometers which is why you can find a wide array of breeding birds. The prominent ones include an internationally known Aquatic Warblers, Spotted Eagles, Montagu's Harrier and Black Stork. Thousands of White-Black Terns can be easily photographed on serene waters. Tykocin, a small village near these marshes can give you an opportunity of watching and listening to singing Bluethroats, and breeding groups of beautiful Bee-eater birds and Syrian Woodpeckers.
Krakow and the Carpathians:
The fall is the best season for birding in these regions. Pieniny and Tatra Mountains, Niepolomice Forest and Zator Fishponds are some of the most picturesque tourist locations in Poland – comprising of wild meadows and forests. Visiting in the month of September will highlight the autumn migration of bird species such as Alpine Accentor, Hawfinch, Hazel Grouse, Black Stork, Pygmy Owl and Lesser Spotted Eagle.
Zator fishpond is home and to Temminnck's and Little Stint, Garganey and Ferruginous Duck and an abundant population of Red-backed and Great Grey Shrike, Great Snipe, Ural and Pygmy Owl and Spotted Nutcracker to name a few. Many people make their way to Krakow to enjoy exotic bird watching holidays. You can even contact local bird watchers and arrange a bird watching session with them. It will enhance your entire bird watching experience. People mostly expect to see birds like peregrine, goshawk, golden eagle, common buzzard, sparrowhawk and many more.
Warta National Park:
Warta National Park is one of the best location in Poland for bird watching. The Warta Reserve is one of the largest bird habitats in Europe. Its landscape consists of water-logged meadows, willow bushes, channels and old river beds which makes it an excellent abode for water and mud birds. 
Around 245 Avian species reside here and during migratory seasons the visitors can see approximately 200,000 birds on the junction point of Warta and Odra Rivers. Look out for Aquatic Warbler, Black Stork, Black Tern, Great Bittern, Bluethroat, Corn Crake, Trush Nightangle, Red-necked Grebe, Great Reed Warbler, Red Kire, Hoopoe, Lesser Spotted Eagle and White-tailed Eagle. Poland is a land of birds and birders dotted with great birding areas spread throughout the region and along the borders.   
We are avid bird-watchers who recently retired, allowing us more time to travel the world. Fortunately, we have managed to visit numerous countries around Europe, Asia, and America. Watching and photographing birds has been a passion for many years and we are making the most of the extra time on our hands!