Idaho is one of the classic midwestern states of America, full of suburbs nestled among some of the most unspoiled land in the country.
Federally-protected wildlife preserves in Frank-Church River and Gospel Hump and the unprotected, uncivilized lands in between cover over three million acres alone. 
Of course, any homeowner who has heard the tapping of a woodpecker knows these birds don't require uncivilized land to thrive, but any abundance of trees is a boon for animals that live in them. 
And since Idaho is full of trees, you can expect a lot of them to call the Gem State home.
What Woodpeckers can be seen in Idaho?
Insects & Non-insect arthropods
One of the more "watchable" woodpeckers found in Idaho, downy woodpeckers are a common sighting in backyards and roadsides throughout the northwest. 
They are recognizable by the patch 'downy' feathers atop their heads–which is red in males–and their diminutive stature.
Their black and white coloring is typical of many North American woodpeckers: a white stomach with black backs speckled in wite with a striped face that resembles a mak one would wear to a masquerade ball.
If you live in a neighborhood with a good amount of trees you need only look out the back window or visit a local park to see one of these woodpeckers, as their size is the real obstacle spotting one against the chaos of nature.
Wood-boring insects & tree sap
Among the birds listed here, the Hairy Woodpecker is the most likely to be considered native to Idaho, as they are seen throughout every part of the state all year-round.
This isn't just in the forests, but in neighborhoods, parks, and even the small  plots of trees that decorate shopping centers. About half the population overwinters, meaning they become one of the few woodpecker species left when it gets snowy outside.
They are relatively large compared to most other of their kind, with features that resemble the downy woodpecker listed below (they are often confused).
The trademark red crown found in many woodpeckers is present, as is the black and white striped pattern on its face.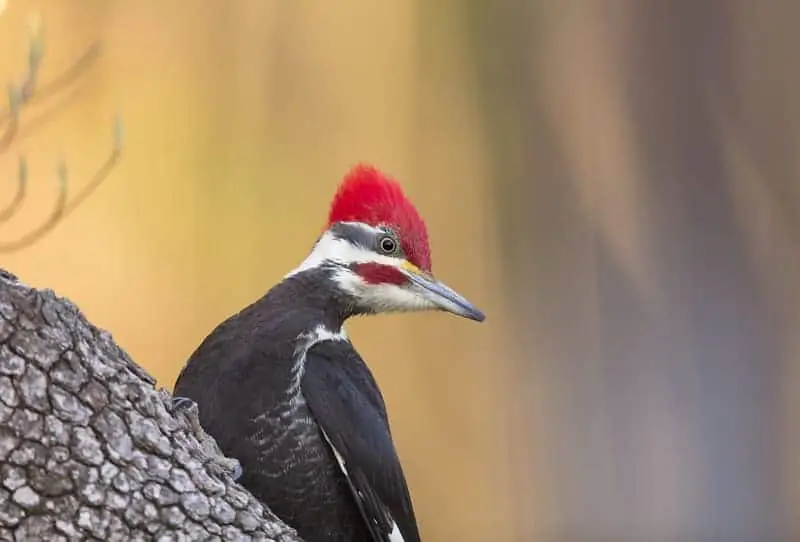 These are the largest of North America's woodpeckers, and likely the image most people imagine when they think of the bird due to a certain rascally cartoon character.
The pileated is easily recognizable by the patch of bright red hair on its crown, which, when held against its crow-sized black-and-white body, stands out like it was cut and dyed at a salon. 
These woodpeckers frequent the northern side of Idaho where trees are largest and bugs are most abundant, though they will also snack on berries and the like when the winter limits resources.
Like most of their kind, these are secretive birds that can be tough to spot without some patience, though they can be spotted in all parts of central and northwest Idaho all year round.
Insects, seeds, nuts & fruit
The appropriately-named flickers are another common sighting throughout the woods of the U.S., included the many wooded areas of Idaho.
These are small, sleek birds with an elaborate sense of style. Flickers have silver crowns and faces streaked in red, with bodies that are closer to an amber and black leopard print. 
Each has a stark gathering of black feathers across the neck like silk scarves. They are also distinct in their feeding habits, as they rummage the ground for meals as often as trees.
Moreover, they are nearly domesticated in their comfort with visiting bird feeders in residential areas, provided an appetizing meal is presented.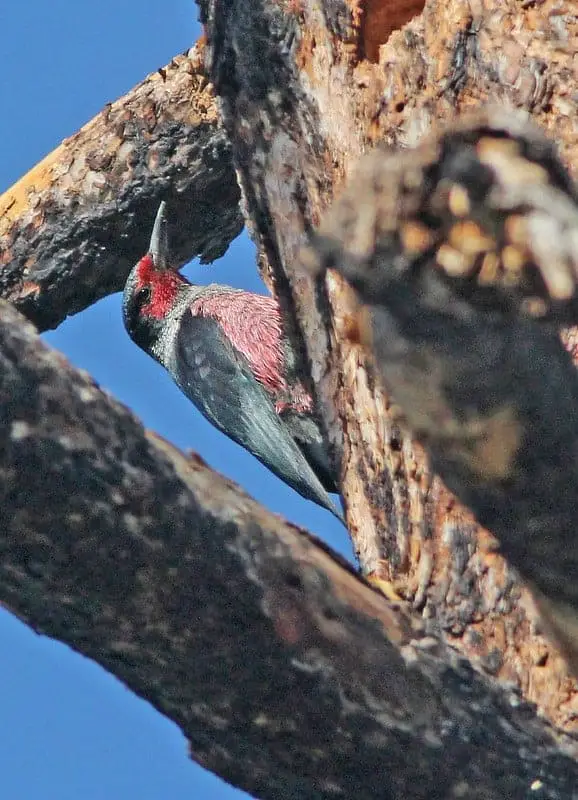 Part of the genus melanerpes that has at least a dozen members, Lewis's woodpecker is one of the more likely in this group to settle in midwestern states like Idaho.
It breeds in the heavily-forested northwestern tip that runs along Montana's border into central Idaho. 
Lewis's woodpeckers have a rather distinct appearance among its kind, with its dark red face and stomach, black wings, and grey collar creating an unusual blend of colors compared to the contrasting bright hues of other woodpeckers. 
They frequent the typical areas where you'd expect to find birds, like pine groves, dense woodlands, and riparian places like those near the Payette River.
6. Black-backed Woodpecker
Wood-boring Beatles, fruit & nuts
These woodpeckers breed in northwest Idaho during the summer, populating areas near the border to Washington until fall.
They fly out of state in the winter, so their presence follows extremes of 'abundant' and 'absent' between the warm and cold months.
Other than the sleek black feathers on their backsides which provide their name, black-backed woodpeckers also have a distinct black-and-white stripe pattern that runs from its legs across the top of its beak.
This is usually contrasted against a white stomach, often speckled with black and/or grey, and an occasional patch of golden feathers across its brow. 
Unlike many of its kin, these birds would rather pick at the termites and wood-boring beetles found in destroyed trees rather than seek food in healthy ones.
7. White-Headed Woodpecker
Another of North America's appropriately-named and easily-spotted birds, the white-headed woodpecker resides mostly near Idaho's midwestern border to Oregon. 
Some breed and settle toward the center of the state, but this is usually to follow food sources.  The white-headed woodpecker is known by its completely white face and neck, contrasted against a black body that could be a raven's if not for the two white bars at the tip of each wing. 
There is also the small tuft of red hair on its crown, but this is hardly necessary to distinguish its exotic appearance from any other woodpecker. 
They frequent tall coniferous trees and high ground until the winter drives them toward central Idaho and the less-strenuous lowland temperatures.
We are avid bird-watchers who recently retired, allowing us more time to travel the world. Fortunately, we have managed to visit numerous countries around Europe, Asia, and America. Watching and photographing birds has been a passion for many years and we are making the most of the extra time on our hands!