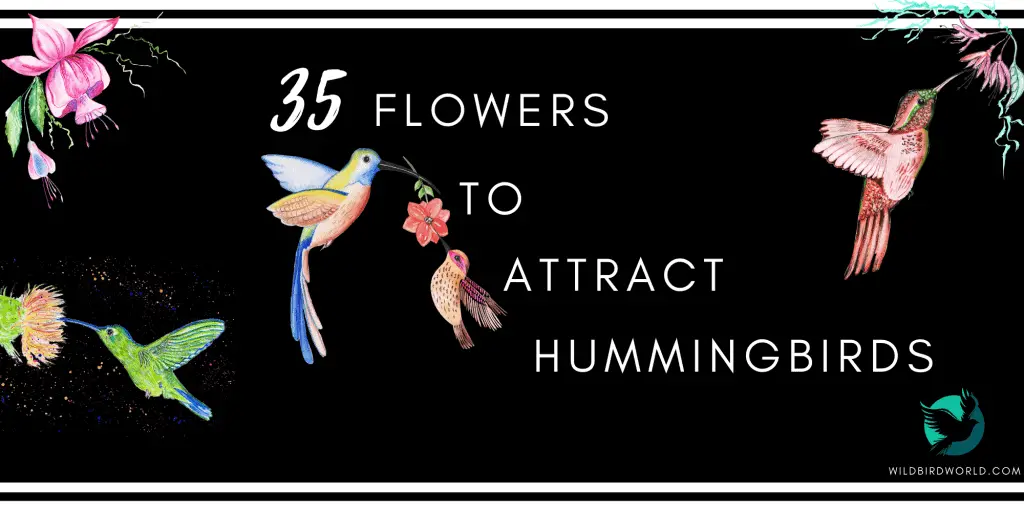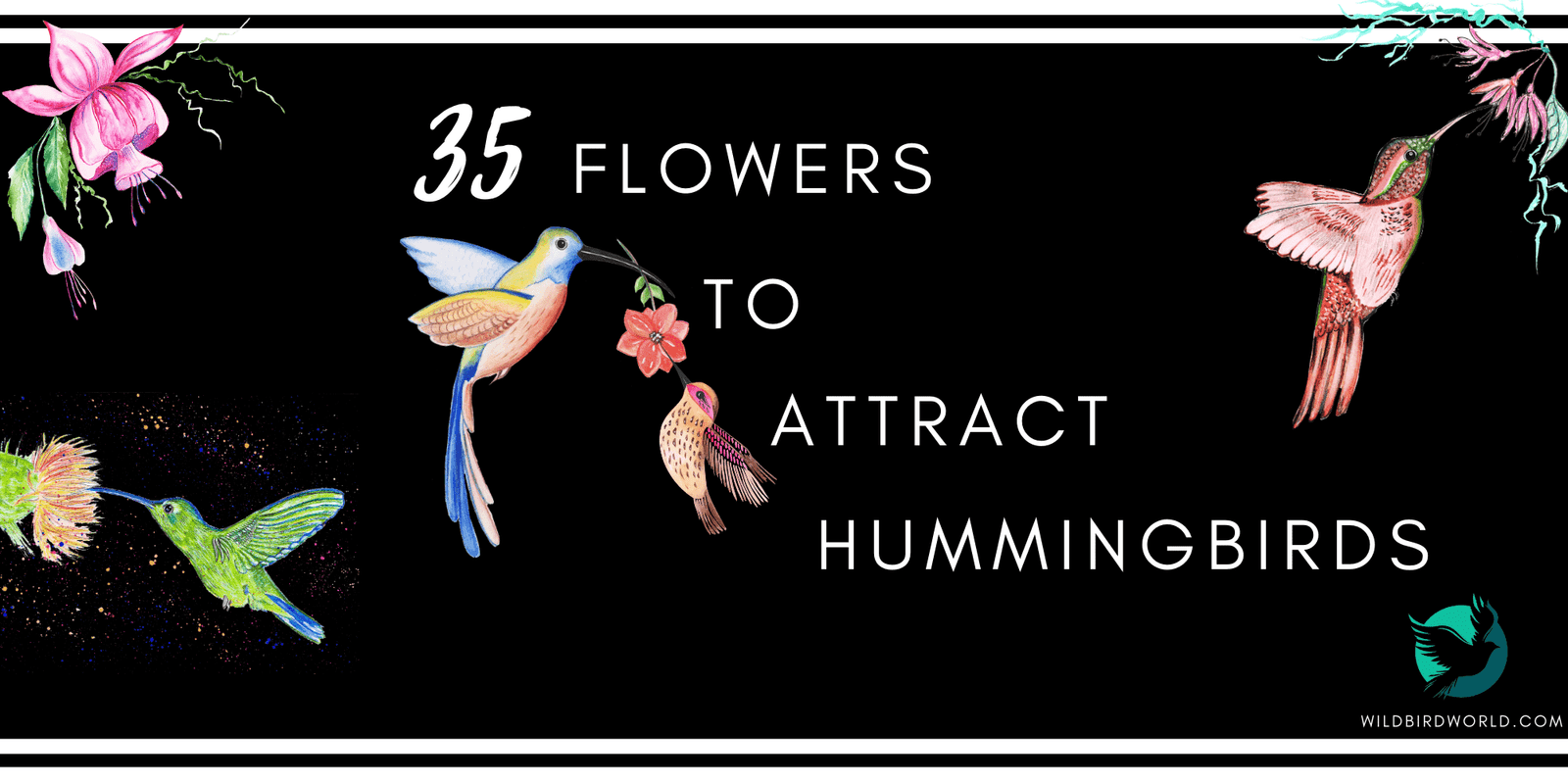 If you're trying to attract hummingbirds to your garden or home front, it can be much more difficult than planting vibrant flowers and patently waiting. If you're looking to consistently be the chosen location for hummingbirds in your area to feed at, there are some steps that you can take to level up your garden. 
Other effective options to attract hummingbirds to your yard is by using a nectar feeder. Here is our list of the best nectar feeders on the market. 
First, you want flowers that have high nectar contents. Hummingbirds are some of the most active animals on the planet and need a constant supply of nectar to fuel their incredibly fast wing speeds, so if you can create a nectar hotspot, the hummingbirds will certainly take note. 
Ideally, the blooms are also tube-shaped. This shape ensures that certain bugs stay out of them but are easily accessed by the thin beak and long tongue of the hummingbirds, giving them less species to compete with for nectar. 
Also, hummingbirds are exclusive to the western hemisphere, so you ideally want to plant flowers that are native to the Americas, since those are the species of plants that hummingbirds have been feeding on forever. You also probably don't want to have to wait forever for your plants to ship or to be available near you. 
You'll want a flower that is easily accessible and that you can easily ship or pick up at your local garden store or nursery. And once you finally have found the perfect flower that matches all of these descriptions, you don't want it to take constant attention, it would be nice to have a plant that is easy to maintain. 
This is where the USDA Hardiness Zone comes in to play, which as the name suggests, displays the areas where your plant is likely to grow the best (within the United States). The USDA Hardiness Zone number will be provided for each flower, and the hardiness zones will be covered more in depth in the FAQ at the end of the article if you want to know more.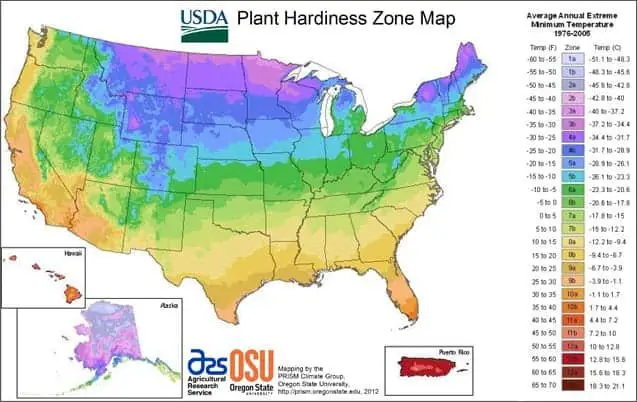 Best Flowers to Attract Hummingbirds
The Trumpet Vine really nails all of the categories mentioned in the intro, it has a great tube-shape which caters to hummingbirds, its vibrant red, it has high levels of nectar, and it grows like it's in Jack and the Beanstalk. 
The only maintenance issue with Trumpet Vines is that they might grow too much, and you might need to cut them back to make sure that they don't take over your entire garden, which is a good problem to have I suppose. What's more, it even serves as a preferable nesting habitat for other species of birds, so if you're looking for more than just hummingbirds, trumpet vines have you covered. Your local nursery should have Trumpet Vine, but it does take one or two years for the blooms to show after being planted. And don't let the hardiness zone on trumpet vine scare you away too much, they readily grow almost anywhere in the United States.
Full Sun, Partial Sun or Full Shade
Acidic, moist, drained soil
You might notice a trend here with the "trumpet" nomenclature. That's because many of the desired tube-shaped flowers that we're seeking are dubbed "trumpets" for obvious reasons. These, like the trumpet vine, are also brightly coloured red and orange. In fact, the trumpet vine and trumpet honeysuckle are often confused.
 If you don't want to be constantly trimming your plants back, you might opt for the trumpet honeysuckle over the trumpet vine because the honeysuckle grows easily, but not as widespread. Trumpet honeysuckle is also relatively hardy in that it's capable of growing in clay soil, which many plants struggle with. Also, trumpet honeysuckle grows well in the proximity of black walnut trees, which are known to take out more sensitive plants. 
If you can't find the name "trumpet honeysuckle" at your local nursery, you might want to also search for "coral honeysuckle," they're the same plant. The trumpet honeysuckle is native to the eastern and southern United States, but like it's counterpart the trumpet vine, it's possible that it can still thrive outside of its hardiness zone.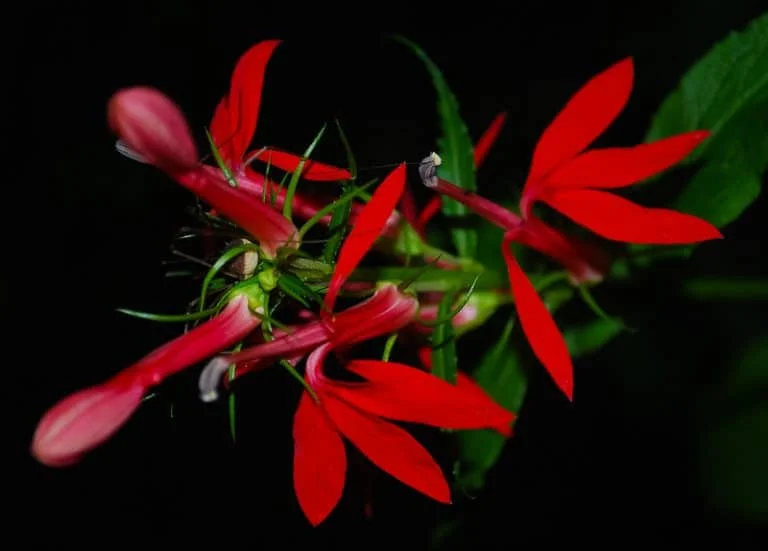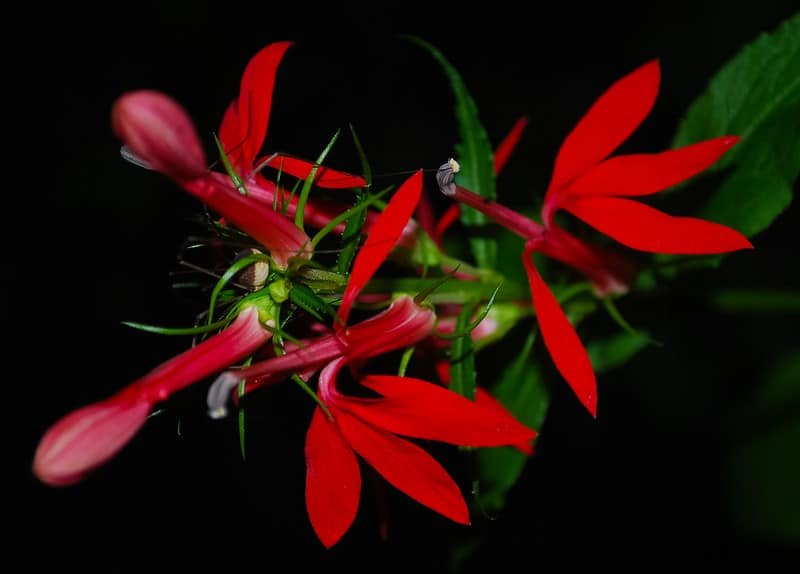 Not only is the red cardinal flower a highly attractive flower to hummingbirds due to its deep red colour, it is native to the entire mainland United States, meaning it should have no problem growing almost anywhere in the US. 
The blooms point upward in a tubular shape, which invites all nearby hummingbirds to partake in its nectar. The tube-shaped flowers on the red cardinal are even narrower than that of the trumpet flowers described earlier in this list to the point where the red cardinal relies on the hummingbirds to pollinate it just as much as the hummingbirds rely on the red cardinals to supply energy. So, these two form a perfect symbiotic relationship. Make sure that you don't plant the red cardinal in full sun or dry areas, as both could be harsh on the plant and cause it to die.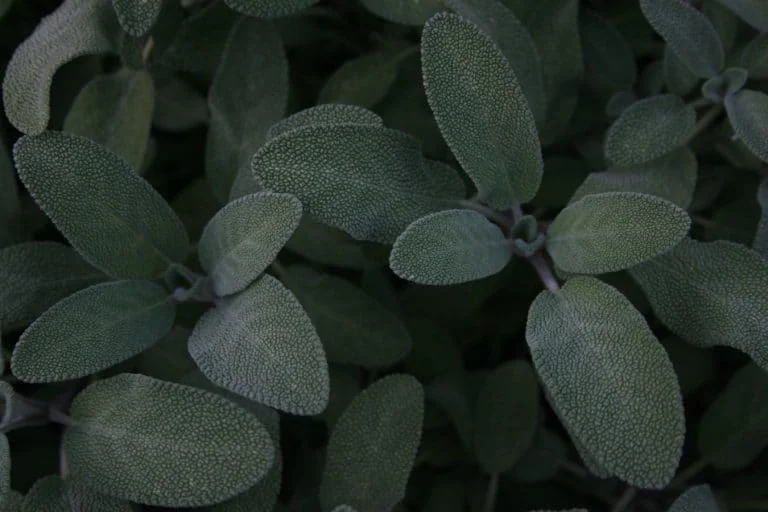 Sage is a beautiful plant, often known for its calming properties in humans, and it can also relax hummingbirds as they enjoy a nice snack during a hard day's work. What's more, the sage plant grows without much maintenance and the leaves are edible. 
There are many different species of sage, so you should do some of your own research to determine which type will grow the best in your area. Since there are so many different species, you should have a wide range of sizes and colours to choose from, which should help to make sage very adaptable to your garden. 
All sage plants still maintain the desired tube shaped blooms that hummingbirds love as well as many other types of pollinators. You'll be able to find sage at nearly every single nursery that you check in the United States, it's a nursery staple. Since there are many different species of sage that all could work wonders for your hummingbird garden, we won't be providing the USDA Hardiness Zone, but you should be able to easily find at least one, if not many, species of sage for your garden.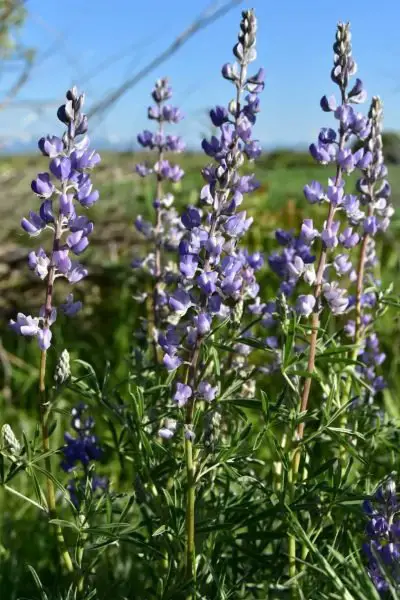 Lupines grow wild in some areas, so you may not even need to take a trip to the nursery to plant this hummingbird attractor. Overall, lupine take less than an hour of maintenance per month, so these are great flowers to plant and forget about. 
They grow tall, about three feet in height, and exhibit the desired tube-shaped blooms just like many other flowers on this list. There are many species of lupine and the flower colours vary, but a great addition to lupines is that their foliage is also a beautiful grey/green colour, so the flowers aren't the only eye-catching aspect of this plant. Since lupines grow wild in many areas, you might guess that they aren't picky about where they grow at. Lupines are not only easy to grow, but they can grow virtually anywhere. Just ensure that you plant them where they can soak up the sun, because they won't flower in the shade.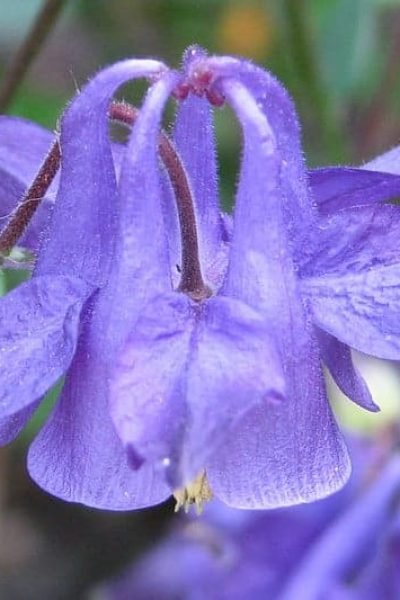 Columbines have a unique shape to their bloom, with trailing tails coming from behind the trumpet-shaped bloom, and not only will you love looking at them, but hummingbirds will too. Although the mouths of these blooms are wider than many others on this list, that doesn't mean that insects can easily get to the nectar, because columbines are still deep. 
It's also important to note that the bloom time of columbines coincides well with the migration of hummingbirds after the winter, and they should be blooming just as hummingbirds are making their return for the summer. Oftentimes columbines are some of the first nectar source targets of hummingbirds as they arrive from the south. 
There are many differing types of columbine, so you shouldn't have trouble finding one that fits right into your hummingbird garden. Columbines are also easy to grow starting from seeds, so don't fret if you can't find pre-grown plants at your local nursery, you should be able to grow them the hard way.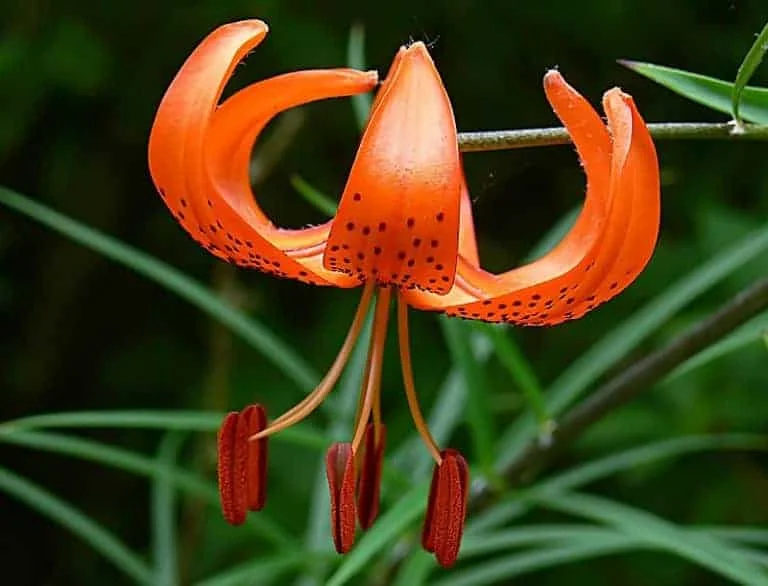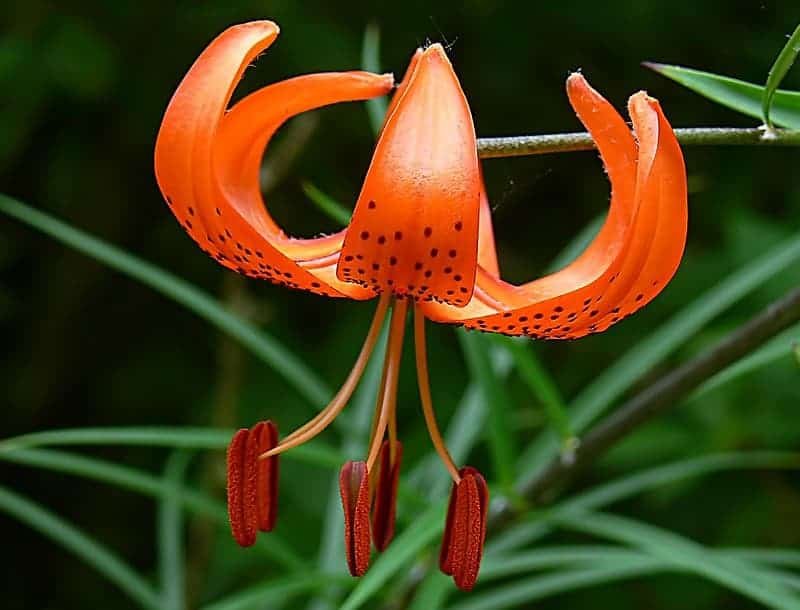 Another common plant that you might see growing in your yard without even taking a trip to the nursery, lilies are hummingbird hotspots due to their shape and colour. The blooms of lilies are hard to miss, they're large and eye-catching. 
Tiger lilies are preferable in the western United States and Canada Lilies work perfect in the Eastern half of the United States. Lilies grow from bulbs and you should be able to acquire the bulbs relatively easily. Keep in mind that lilies are toxic to cats, so if you are a cat owner, maybe consider other flowers on this list. 
You won't have trouble growing lilies, but you might have trouble containing them. There's a reason that you see them growing everywhere, they're invasive. Hummingbirds don't mind that they're invasive, but your garden diversity might mind. Make sure that when you plant the bulbs, your soil isn't too moist or it could cause the bulb to rot.
Acidic, moist, well drained
Indian pink is a rare wildflower that can be found in the south-eastern United States. Their contrasting yellow and red blooms are gorgeous (and hummingbirds agree). A red background sets the stage for the yellow interior to pop. The flowers also grow in clumps rather than solitary blooms, so you'll have multiple bursts of the brilliant colours in your garden. 
They are also known as pinkroot, which might help to explain why the word "pink" is in the name of a red and yellow flower. They grow with dense foliage behind the blooms, so they'll provide a lot of green to your garden as well as their trademark red and yellow. Acidic soil is a requirement for these flowers, making them a little more high maintenance if you're unsure of the acidity of your soil. This flower is also one of the rare flowers that thrive in partial shade as opposed to full sun, so if you live on a shaded lot, this might be a must-have for your garden.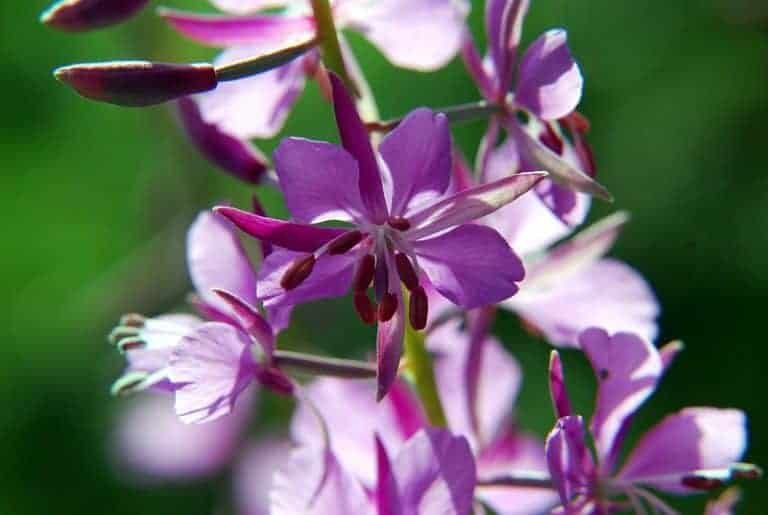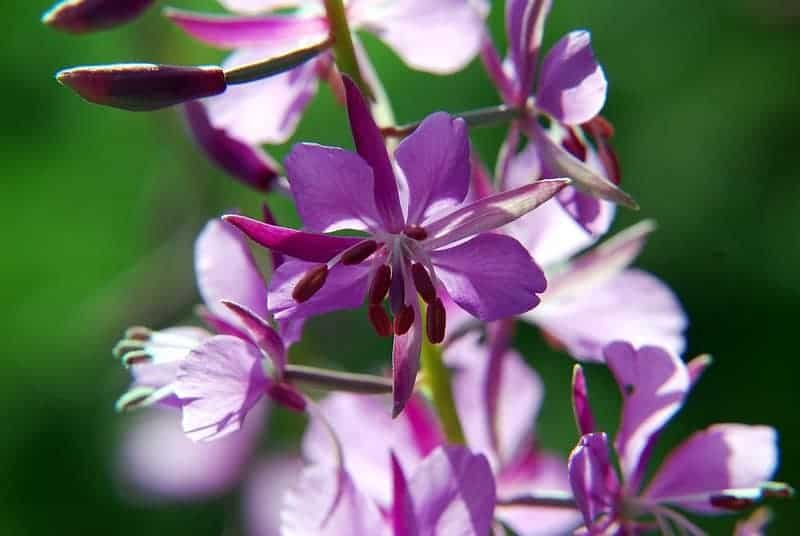 Don't let the name scare you, this flower is not something that you should be removing from your garden. Fireweed grow wild in many meadows and riverbanks across the United States. It received its name from its ability to be one of the first signs of life after a fire, exemplified by being the first sign of life after the Mount Saint Helens explosion.
That should speak to the resilience of these flowers. The stringy fluff that grows on the end of the blooms was used as string by Native Americans, and they also gained great nutritional value from teas made with fireweed, which provided them a source of vitamins A and C. 
These flowers are tall, growing 4 to 6 feet on average but as high as 9 feet tall, so take that into consideration when you're deciding where to plant them. It does have the word "weed" in the name, and rightfully so. If you don't make sure to cut these flowers back every now and then, you run the risk of them overgrowing your entire garden, if not your entire yard.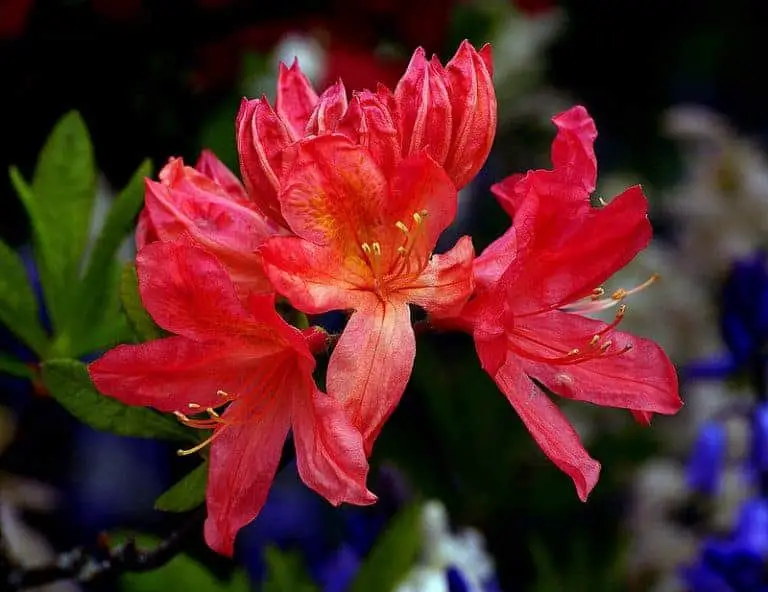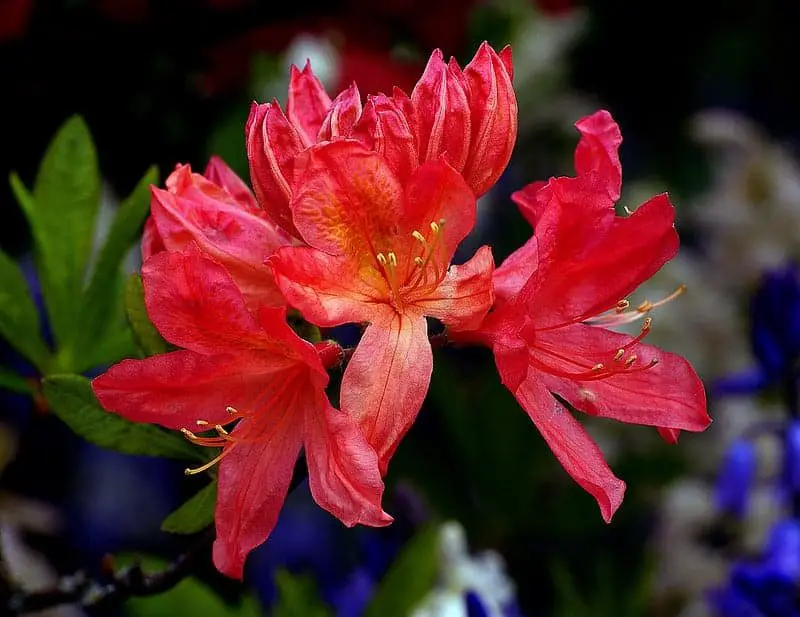 Azaleas are one of the best plants to add to your garden to add large swaths of colour, since the blooms on azalea bushes cover virtually the entirety of the bush. Also, azalea bushes thrive in partial shade, so they look incredible when planted with the backdrop of woods or green foliage, in contrast to their bright colours. 
Azaleas take some light pruning and trimming to look their best and cutting back dead branches can help them to maintain their bushy and full appearance. Make sure that the soil of your azalea bush is well drained as well since they can be prone to root rot. These flowery bushes are ideal for hummingbirds because of the massive amount of colour they bring to your yard or garden. 
They also exhibit the trumpet shape that hummingbirds require to pollinate them. Azaleas are also known for appealing to butterflies, which is certainly an added benefit since every garden looks better with some colourful butterflies. Their leaves are also poisonous if ingested, so keep that in mind for any animals you might have at home. They have a long bloom time (spring to fall), so you'll be able to attract hummingbirds and butterflies for much longer using azaleas than many other plant options.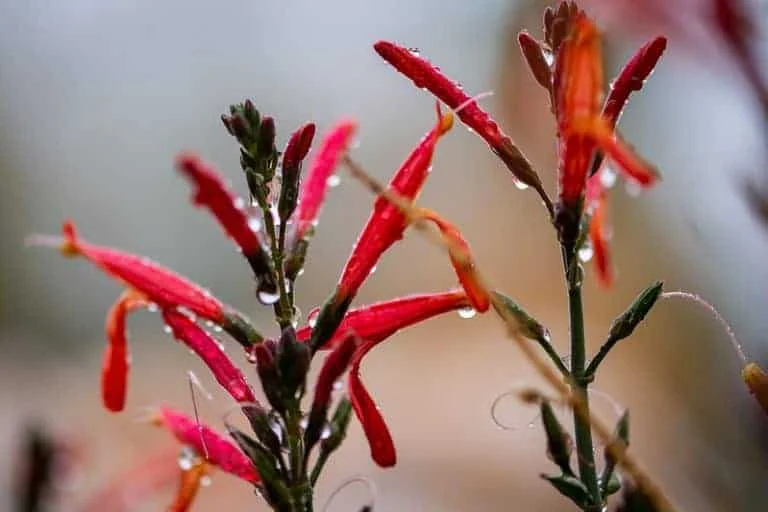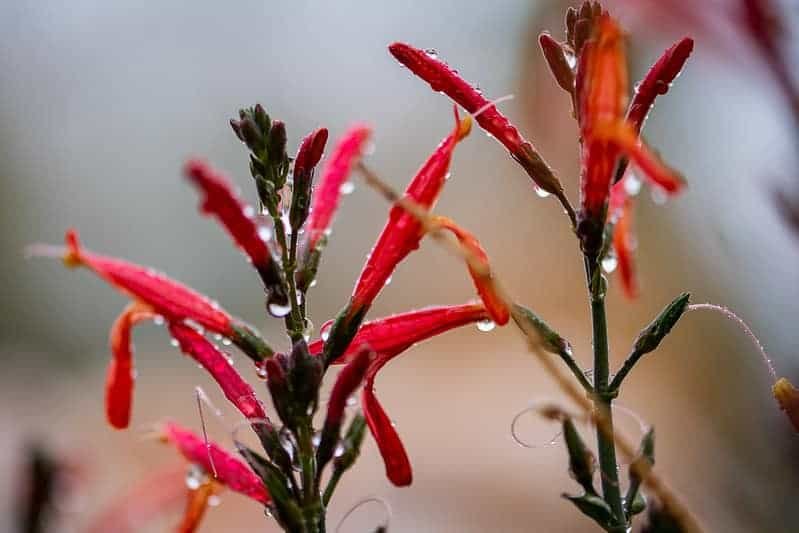 Low-fertility, well drained
These are perfect for attracting hummingbirds, and they're especially adaptable to dryer environments. Since they're native to the dry, desert-like conditions and they are resistant to drought conditions and can thrive in the midst of small amounts of water. 
They also have a bloom time greater than 4 weeks, so you'll get at least a month of hummingbird visits due to these plants. They also aren't attractive to deer, which any gardener knows is ideal, since deer can turn your favourite garden plants into mere stubs. 
They do require full sun, so these plants are ideal for those who live in hot, arid environments, and might take more work for those who live in partially shaded areas or areas with a lot of rain. But if you do live in the northern United States, for example, don't shy away from these plants, since they are hardy, and it is possible to get them to bloom beautifully anywhere in the United States. They will have trouble growing in clay soil.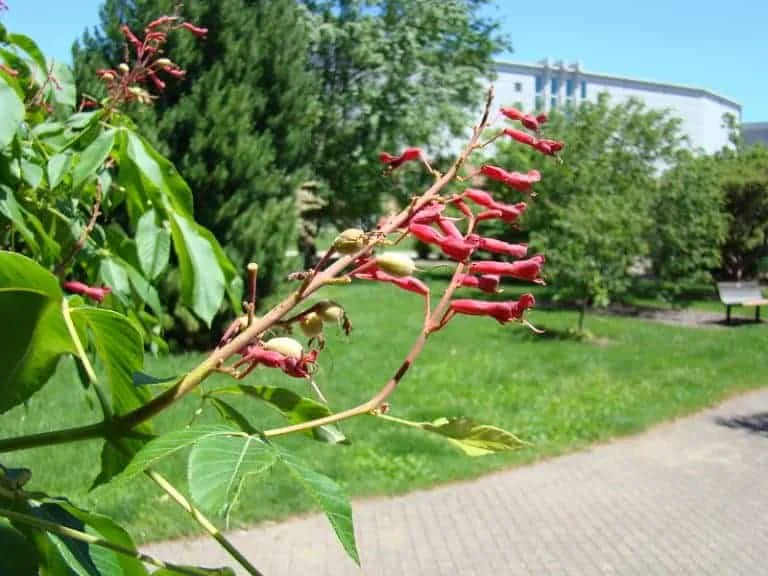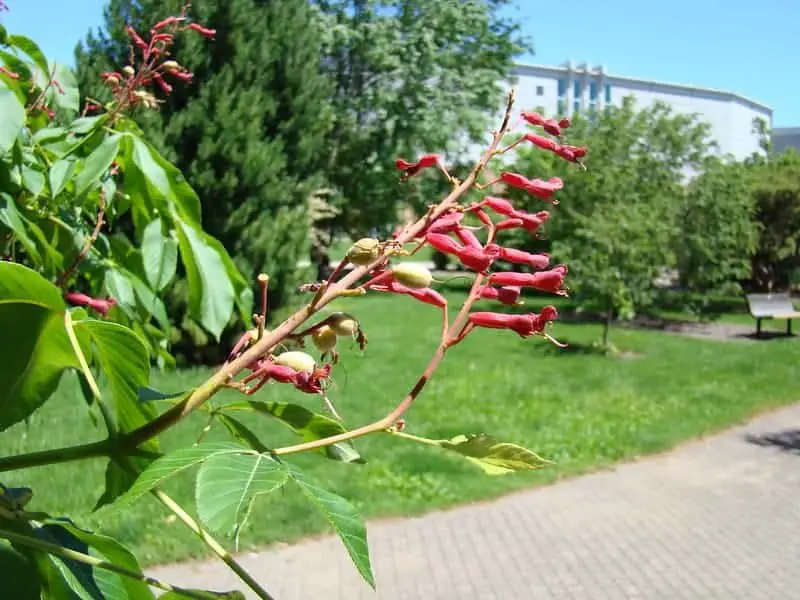 Moist, well-drained, high organic content
Red buckeye trees bloom just in time for the return of hummingbirds from their migratory winter flight to the Gulf of Mexico and are an immediate treat upon their return. Red buckeye trees also have large leaves, resembling palms, that give your yard a tropical flair to it. 
They grow well near trees such as oak and hickory trees, and similar trees that lose their leaves. Red buckeyes are tolerant of flooding and droughts once they've grown to maturity. They require full sun, but if you live in especially hot climates you should be careful to protect it from the sun on some of the hottest days, since it could cause damage to the plant, especially soon after planting. 
You should be able to grow red buckeyes from a seed, starting off in a planter with potting mix to get it started before transplanting the tree into your yard. You should also be able to acquire saplings from a nursery if you don't want to go through the hassle of raising the trees from buckeye seeds. Buckeye nuts are also highly poisonous.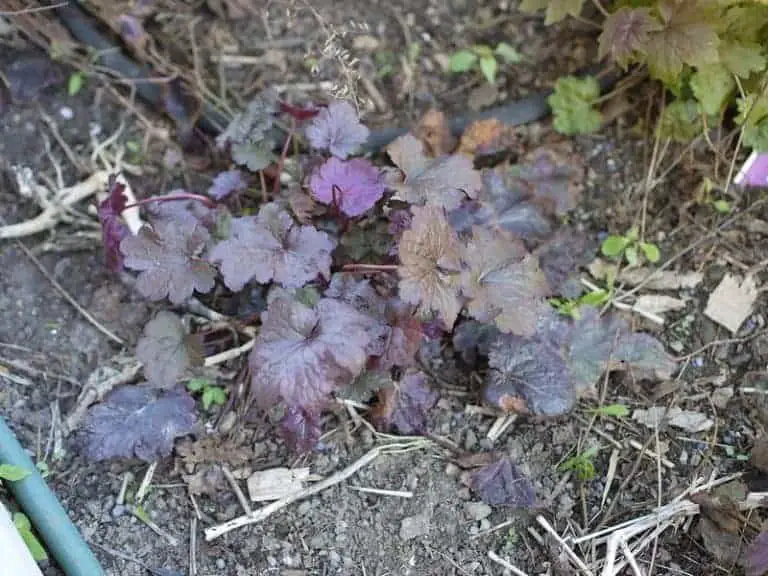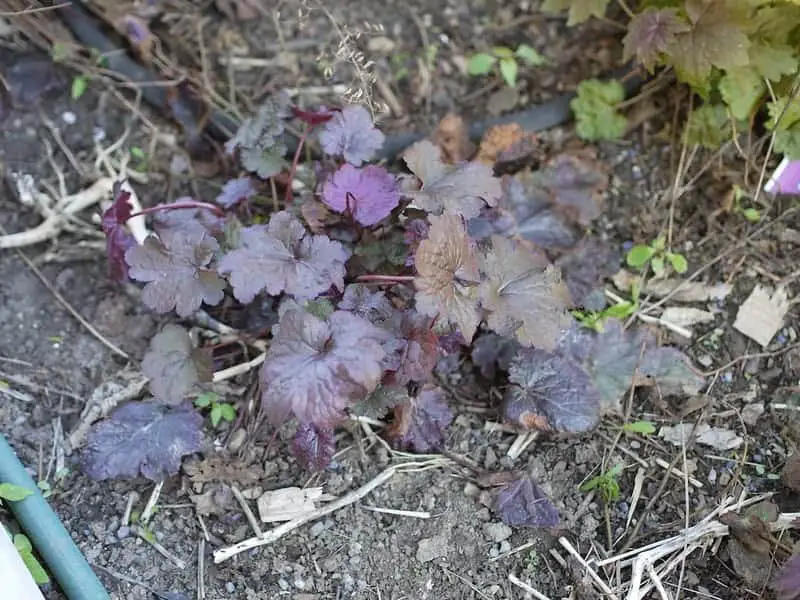 Coral bells have tiny blooms, but that doesn't mean that hummingbirds don't love them any less than the other flowers on this list. In many gardens, coral bells are added not for their blooms, but for their large and impressive leaves, to add a lot of greenery. 
Some gardeners will even cut off the blooms to ensure that the most care and nutrients are going into the desired leaves rather than the blooms, but if you're looking to attract hummingbirds, you should obviously not cut off the blooms. In contrast to a bush like the azaleas, the coral bell plant will offer your hummingbird garden a lot more greenery with a small splash of colour when the bells bloom. 
Many hummingbird gardeners will use columbines to complement the foliage of the coral bell hosta. Coral bells grow naturally along the edges of wooded areas, and if you have a treeline on your lot, that should be one of the first places to consider when planting coral bells.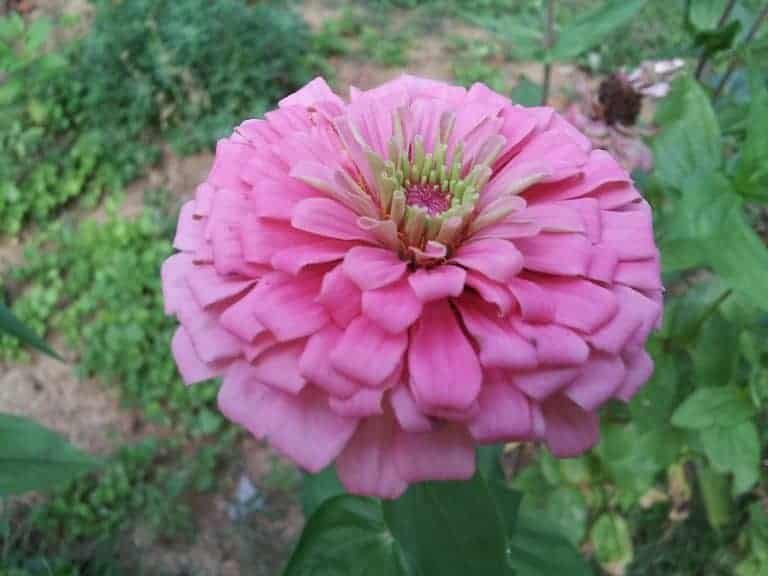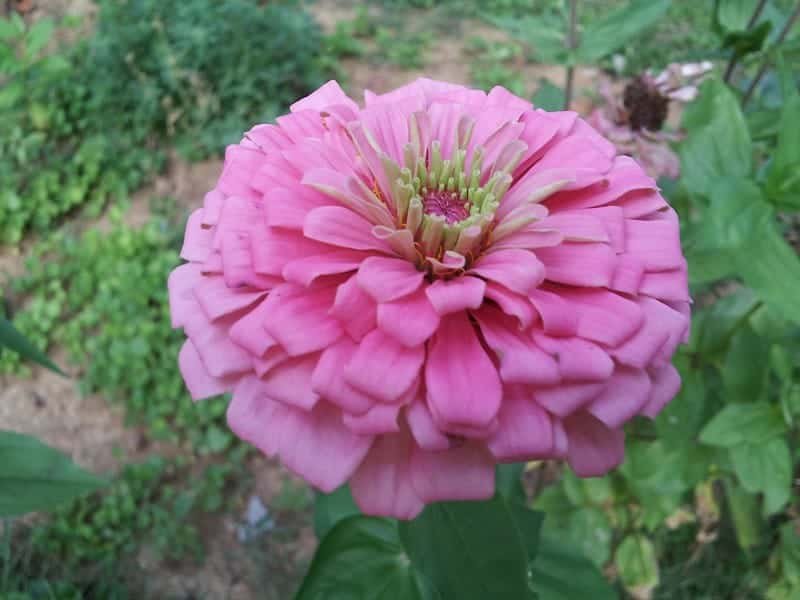 This is the first annual plant on the list thus far. Zinnias aren't exclusive to being pollinated by butterflies and hummingbirds, and insects can still access the nectar sources as well, but they're still an attractive source of nectar for hummingbirds. 
If you want a zinnia that produces an unusually high amount of pollen florets, you should check out the Zowie Yellow Flame, which might cost you more than other generic zinnias, but it will pay off in offering you a more attractive source of nectar for hummingbirds. Zinnias are also some of the easiest flowers to grow and they will offer plenty of blooms. They are also suitable for containers and window boxes and can add a charming look underneath your windows or on your front porch. 
Zinnias need full sun, and that's pretty much the only requirement for growing beautiful zinnias, aside from that they are very adaptable flowers and can grow in different types of soil. You can grow them quickly from seeds and you should be able to see seedlings in less than a week after planting.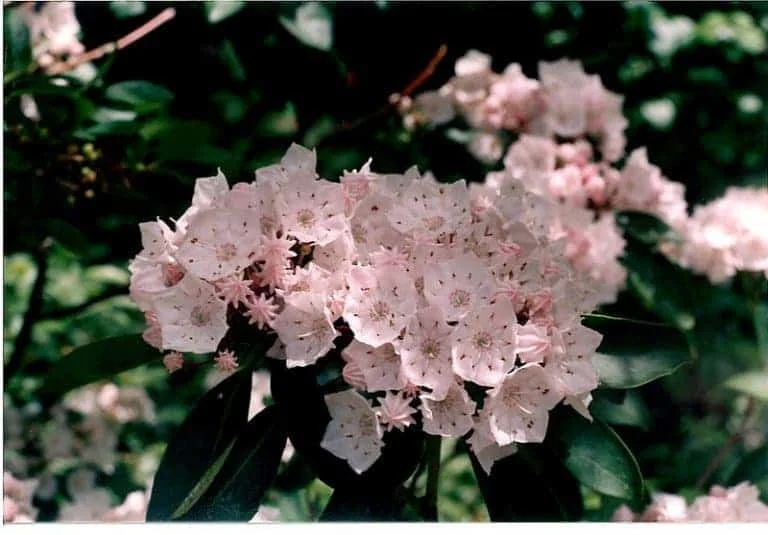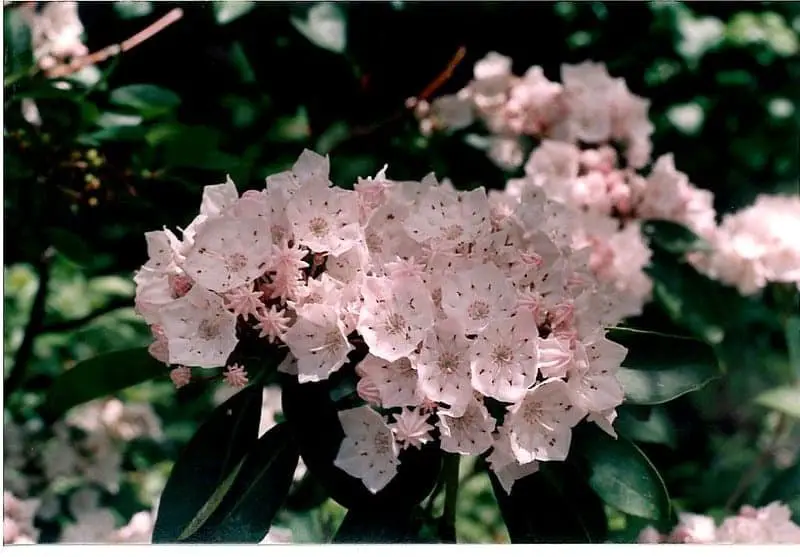 High acidity, moist, well drained, cool
Hummingbirds love the Pennsylvania state flower because they grow in large clusters of blooms which allows the hummingbirds to receive a large amount of nectar in a short amount of travel time. Mountain laurels also grow well in shade or partial shade environments, and as their name suggests, they thrive in mountain environments. 
This shrub works well for lining walkways or your garden. One requirement of mountain laurels is that they do require acidic soil in addition to moisture and humidity. In that sense, it's one of the more picky plants on this list, but if you have the right environment for it, you should prioritize planting this great hummingbird attractor. 
If you live in a mountain environment that receives snow in the winter you should especially consider the mountain laurel, because they maintain their greenery even through the bitter cold winters and snow. They also work if you live in rocky environments, where other plants might struggle to survive among the high density of rocks. The mountains can be a hummingbird mecca just as well as any other environment.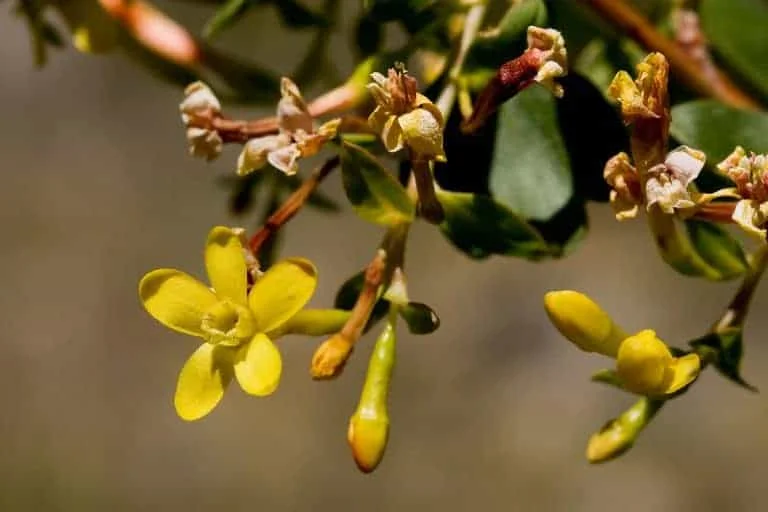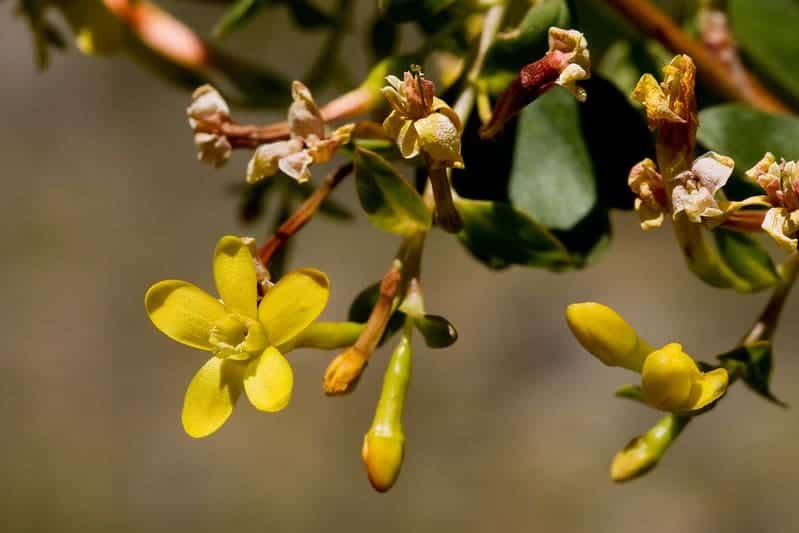 Medium drainage, woodland or near water
Golden currant is not only attractive to hummingbirds due to their shape and colour, but they will be attractive to you and your house guests due to their incredible fragrance. Golden currant shrubs give off a vanilla fragrance that is strong and sweet. The shrub also produces berries in addition to the yellow blooms, and the berries are edible.
When the blooms fall off as fall approaches, the leaves that were once green turn a brilliant shade of red, giving your yard and garden colour not only in the blooming season, but throughout the autumn as well. The leaves then drop off in the winter to return again later in the spring. 
Golden currant grows especially well in areas with a lot of water, such as on the banks of streams and rivers or at the bottom of slopes. They grow especially well near oak trees as well and prefer part shade. The plant will continue to multiply as it releases seeds each year, offering your garden or yard more groundcover each consecutive year. They are easy to grow and need no special accommodations.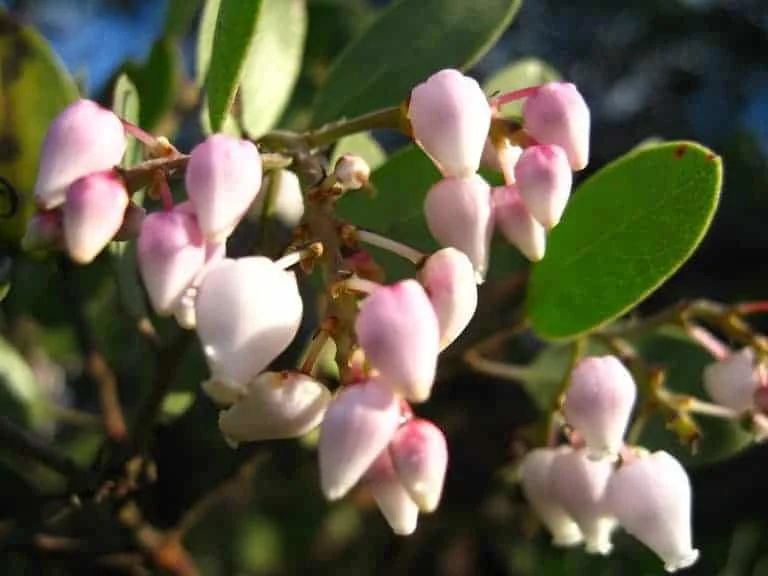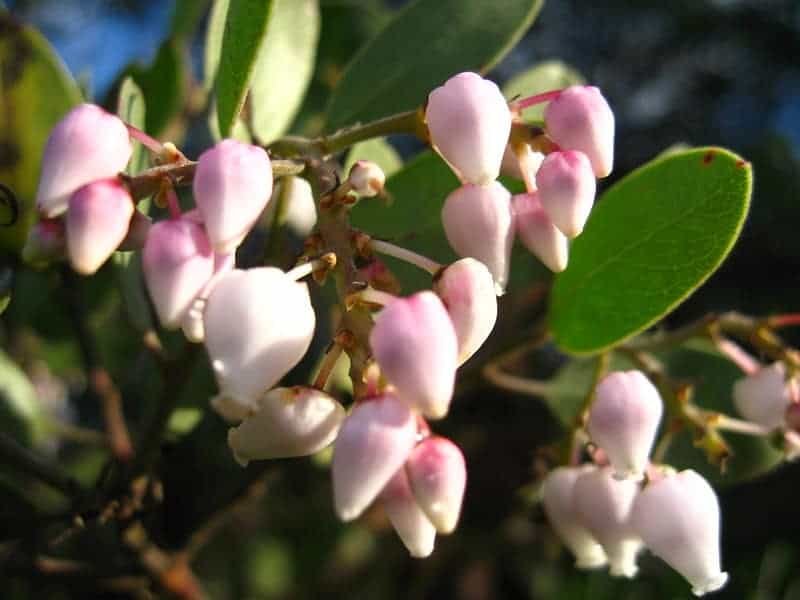 Well-drained, clay / loamy / sand
Manzanitas work well for those who have dry gardens and still want to attract hummingbirds, since manzanitas don't require any watering. Manzanita also have unique bark that offers an interesting spin to your garden. They can also grow in nearly every type of soil, even sand and clay. 
They have a wide range of sizes, from only a few inches to as much as 20 feet tall depending on the species. Their flowers are beautiful pink and white and their notable bark can be coloured red or black. These plants are ideal for those who live in dry and arid environments and are seeking minimal maintenance for their hummingbird garden.
Manzanitas are very much a plant that you can put in the ground and forget about it. They are drought tolerant and are native to California. They grow slowly, so don't expect these shrubs to be growing at incredible speeds. Manzanitas are a staple to western United States hummingbird gardens for good reason.
Sand / loam / clay, moist to wet
Sierra larkspur are native to the western United States and Canada, spanning all the way from Arizona north to Alaska. They thrive in the mountains, especially near pastures and streams. They grow very vertically with at least 50 blooms sprouting off the sides of the main stem. They reach 3 to 6 feet in height. 
The stems and leaves have a waxy coating on them and exhibit bluish purple flowers. They are poisonous to humans and animals if eaten. Sierra larkspur do require a fair amount of water, hence the reason that they prosper especially well along riverbanks. The soil should be at minimum moist, if not wet. 
The blooms themselves are uniquely shaped with irregular and wrinkly edges, giving off a whimsical appearance. They grow well in shade and part shade and are a great addition to any mountainous hummingbird garden. They also are attractive to bees, so the hummingbirds in your area will have some competition for the nectar.
Acidic, moist, well drained, loamy
Rhododendrons are gorgeous bushes that grow naturally in much of the United States, although many species originated in Asia. They have some of the most stunning combinations of leaves and blooms available.
Rhododendron grow in large bushes with large clusters of blooms, which are preferable for pollinators such as hummingbirds, since they can receive massive amounts of nectar just from one rhododendron bush. Rhododendron bushes in bloom will be the centrepiece of your garden or home front and are a key staple to many botanical gardens for their impressive blooms. What is even better is that for the incredible show that you get from a rhododendron bush, they are relatively easy to maintain. 
They do require acidic soil and doesn't like full sun, but if you can nail down those two preferences you are on your way to growing one of the most beautiful flowering bushes on the planet. You should shoot for a pH of 4.5 to 5.5 for rhododendron soil and the soil should be moist but well drained. They only need one fertilization each fall, and you should buy fertilizer for plants that prefer acidic soil.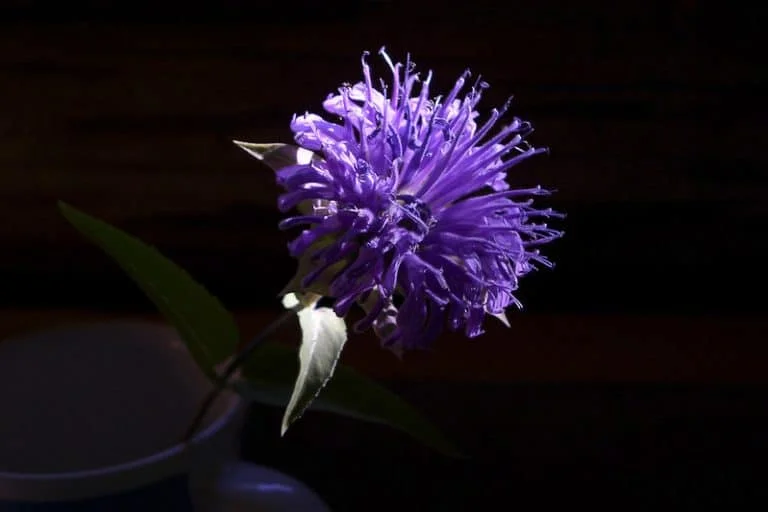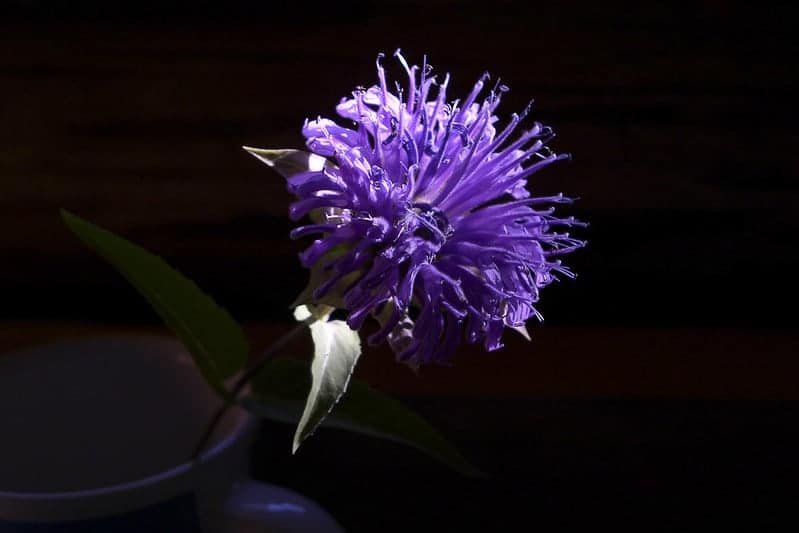 Don't let the name fool you, bee balm doesn't only attract the famous yellow and black insect pollinators, but they attract hummingbirds as well. Bee balm is native to the eastern United States and the northwest United States.
There are many different types of bee balm available, and each type has different properties that might be more adaptable to your garden environment, so it might require a little bit of research to figure out which type is best. Or just take a trip to your local nursery, and whatever type of bee balm they have will probably fit perfectly into your home garden.
These flowers are also deer and drought resistant, and you'll be seeing a lot of butterflies hanging around them too, an added bonus. Bee balm are listed as full sun in most places, but they can tolerate a little bit of shade, they're a hardy plant overall. Also, the leaves of bee balm smell like mint or basil, which is where it gets its alternate name, horsemint.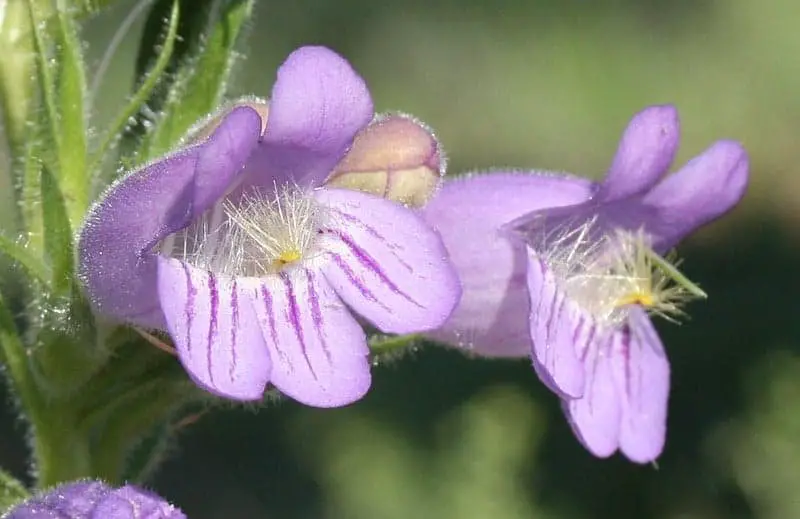 Spring for cooler climates
Winter for warmer climates
Well drained, loose or gravelly soil
Penstemon are known for their ability to be one of the most drought resistant flowers available. There are over 100 species of penstemon that vary in size and colour, so you should be able to find one that fits perfectly in your garden. 
Believe it or not, these flowers actually prefer drier environments, and if the soil that you plant them in is too rich, it will actually lessen the number of blooms produced by the plant. A popular pairing is Penstemon and Lupine, another flower on this list, because their pink and purple colours provide for a relaxing palette that's easy to look at.
Their bloom time depends on where you plant them, for warmer regions such as the southwest United States, they'll bloom late in the winter, and for cooler regions they'll begin to bloom in the spring. All these flowers need is some light pruning of the dead blooms. Otherwise, this plant is great since it actually thrives more with less maintenance. Keep in mind that after the blooms fall off and die, penstemon plants can look rather drab, so make sure to surround them with plants that bloom later on.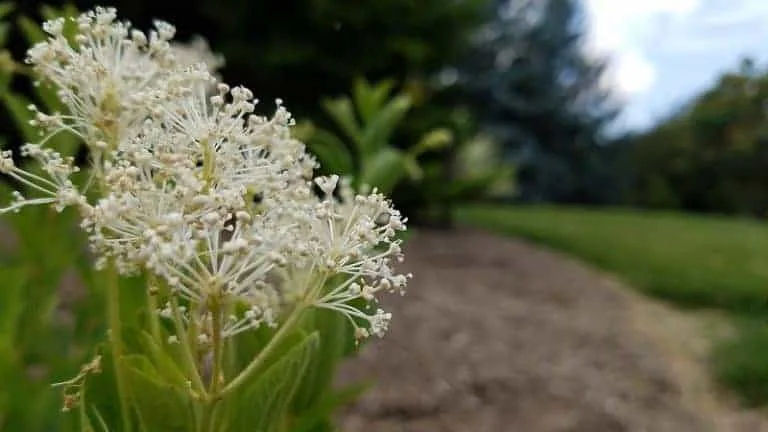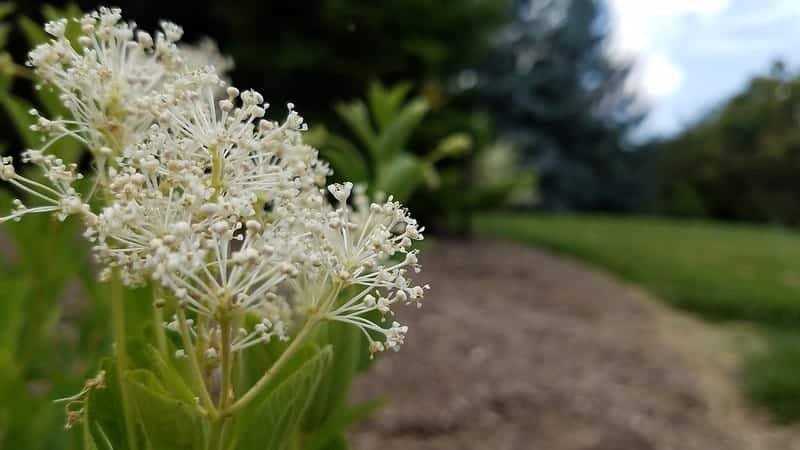 Well drained, dry to medium soil
New Jersey Tea are some of the most elegant and classy flowers on this list. They feature clusters of dainty white blooms that attract a lot of small insects to pollinate them. Hummingbirds love these flowers because they eat the tiny insects that are often found on them. 
Hummingbirds aren't all about nectar, they enjoy the occasional insect snack every now and then just like every other bird. The flowers get their name from the American Revolution when the leaves were used as an alternative for British tea. They are capable of growing in dry to medium soil and enjoy sun or partial sun environments. 
They have deep roots that make them tough and able to withstand a lot of beating, but it makes them hard to transplant, so make sure that you think long and hard about where you're going to plant New Jersey Tea because you likely won't be able to dig them up and move them without them dying.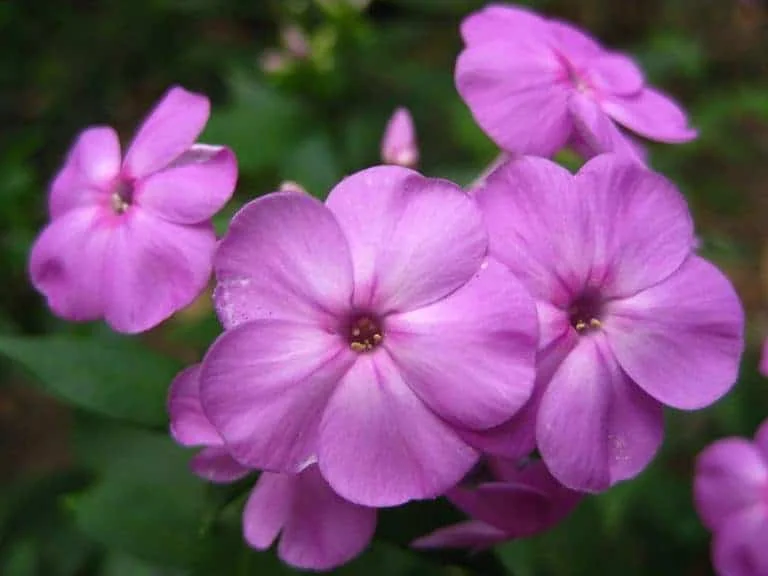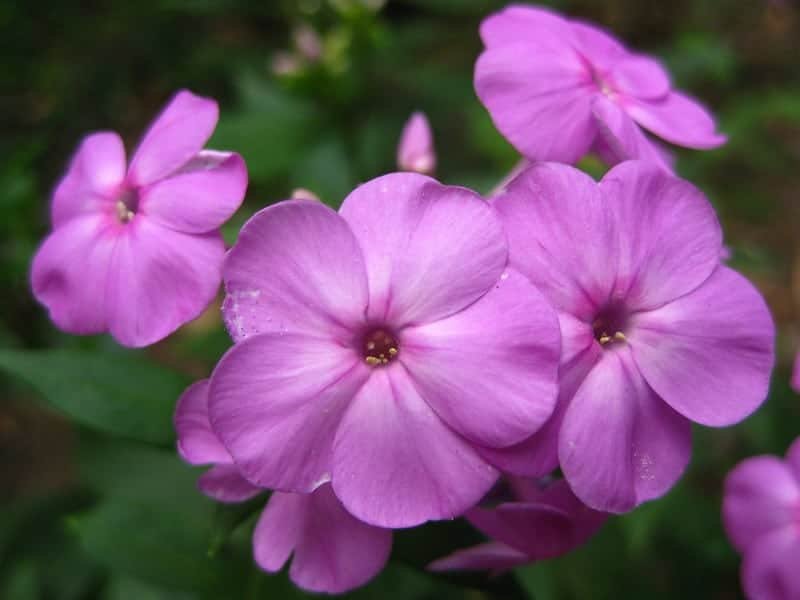 Phlox are highly fragrant flowers that will not only add hummingbirds to your garden environment, but a great sweet scent as well. There are multiple types of phlox, including garden and meadow phlox, which are available in many different colours, and are taller than other varieties of phlox. 
There are also shorter versions such as sweet William and creeping phlox, which can serve to cover the ground wherever necessary in your garden. Phlox have been genetically altered time and time again to build up their resistance to mildew, and most modern varieties of phlox that you'll find at your local nursery are mildew resistant.
Their soil should be kept moist since they need moisture to thrive. Their foliage colours range from chartreuse to golden, and they are also drought tolerant, a surprising fact considering their preference for moist soil. Overall, phlox are low maintenance and come in enough different varieties to be able to add them in to your garden almost anywhere.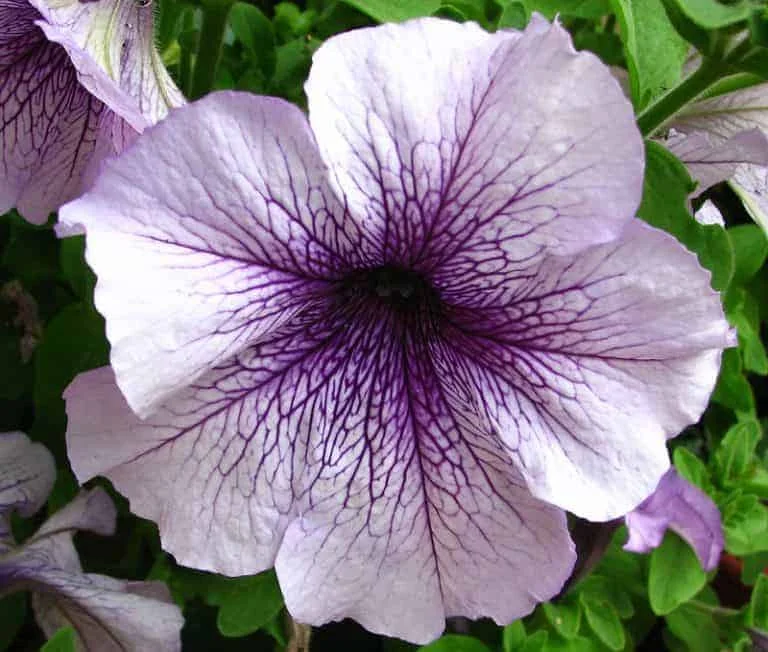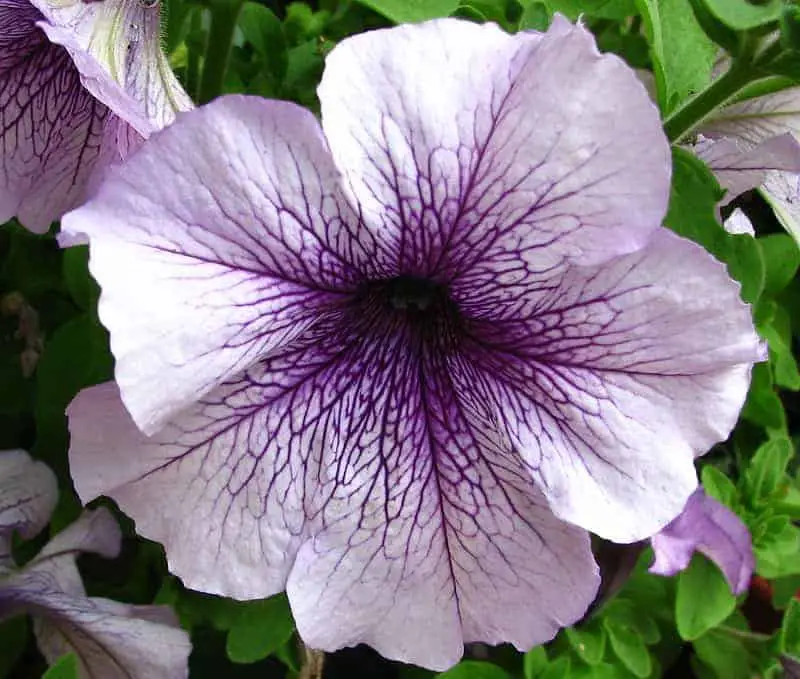 Well drained, clay or sand
Petunias are known for their wave variety, which works perfectly for hanging baskets that you can hang near windows in your house so that you can see hummingbirds feeding at eye level, just outside your house. They're also very beautiful flowers, with vibrant coloured blooms that contrast with their light green and yellow patterned foliage.
They've been hybridized to have earlier bloom times and larger blooms, which helps the timing and the beauty of these popular flowers. It's a shame that they're annuals, because this is probably a flower that you'd want returning to your garden year after year without having to replant them, but you can't have it all I suppose. 
Petunias were also included in Birds and Blooms top 10 Award-Winning Hummingbird Flowers, and you can't argue with the experts. It doesn't take an expert to look at petunias and tell that they're one of the most gorgeous additions you can add to your hummingbird garden, so keep your eyes peeled for them at your local nursery.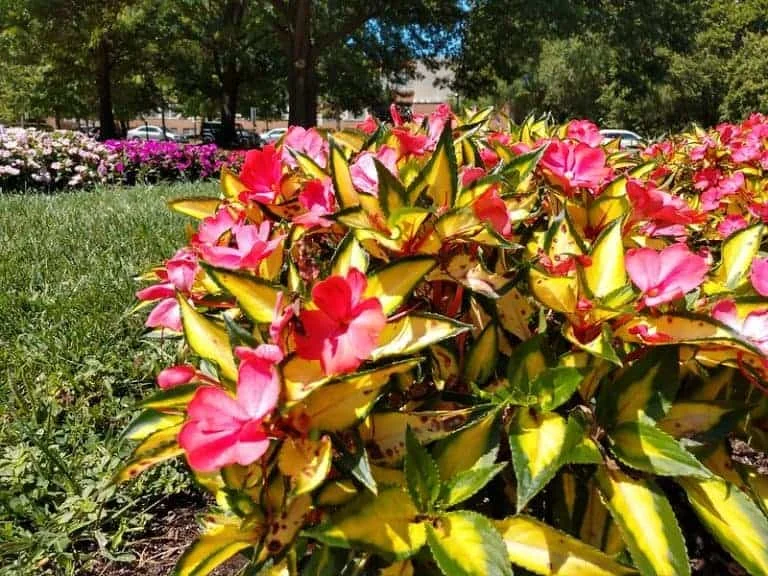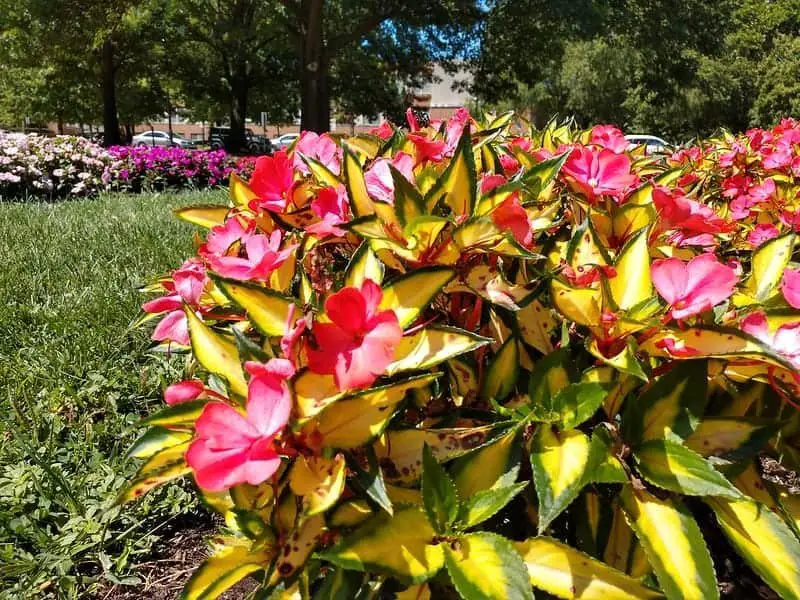 The Trumpet Vine really nails all of the categories mentioned in the intro, it has a great tube-shape which caters to hummingbirds, its vibrant red, it has high levels of nectar, and it grows like it's in Jack and the Beanstalk. 
The only maintenance issue with Trumpet Vines is that they might grow too much, and you might need to cut them back to make sure that they don't take over your entire garden, which is a good problem to have I suppose. What's more, it even serves as a preferable nesting habitat for other species of birds, so if you're looking for more than just hummingbirds, trumpet vines have you covered. Your local nursery should have Trumpet Vine, but it does take one or two years for the blooms to show after being planted. And don't let the hardiness zone on trumpet vine scare you away too much, they readily grow almost anywhere in the United States
Fertile, well drained, loamy
You've likely heard of eucalyptus trees for their medicinal benefits, but they also feature blooms that hummingbirds love. They are not native to the United States, instead they are native to Australia and the Philippines, but many have adapted eucalyptus trees to their American gardens. 
Eucalyptus trees are a great centre piece for your garden or a great addition for some more height. Hummingbirds also like to nest in eucalyptus trees, so not only will you be providing a food source for them, but also a perfect habitat. They are acclimated to high heat conditions and are suitable for some of the hottest environments the United States has to offer. 
Their blooms are the ideal hummingbird colour of scarlet red. Eucalyptus trees were introduced to California in the 1850s and have prospered there ever since, to the point where they have been labelled by many as an invasive species. They've also grown in areas such as the Carolinas and Florida, they would probably be harder to grow in colder environments.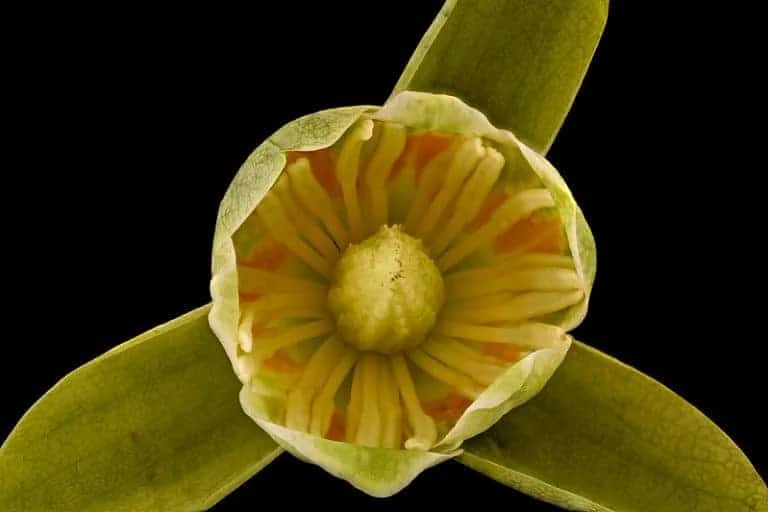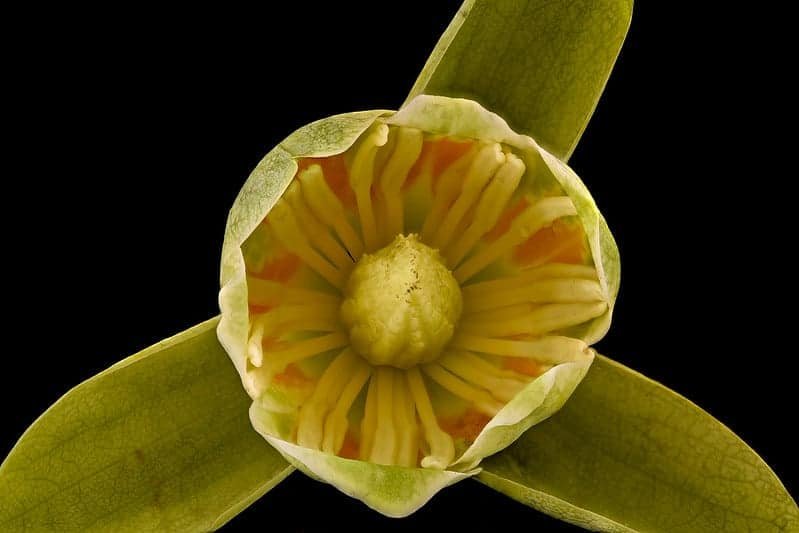 Moist, well drained, loose soil
Similar to eucalyptus, tulip poplars are a great tree to add to your hummingbird garden, surrounded by the other beautiful flowers and shrubs on this list. Tulip tree blooms resemble the popular tulip flowers. The name tulip poplar is a bit of a misnomer, since tulip poplars are actually magnolias, not poplars. 
These trees are very large and can reach heights of 100 feet, so if you decide to plant these, you might need to make some room first. They are known to be some of the most beautiful flowering trees to grow in the United States, and hummingbirds think so too. 
The blooms are yellow with an orange bottom, and its beauty has earned it the state trees for Indiana, Kentucky, and Tennessee. If you are looking to attract other birds besides hummingbirds to your yard, they also attract many other species of birds due to the seeds that they drop. If you're looking for a giant beacon for hummingbirds, tulip poplars are just what you need.
Fertile, well drained, moist
Morning glories are climbing vines that can add vertical charm to your hummingbird garden by allowing them to climb up a fence, a trellis, or a shed. They feature tubular blooms which cater towards hummingbirds' long beak and tongue. 
They will last longer in warmer climates than cold climates, but they grow incredibly fast in any environment. Many satisfied customers who purchased morning glories even claimed that they thrived and even overgrew their bounds in the midst of drought. You might be hesitant to purchase an annual climber, but don't fret, it will surely grow quickly enough to cover a decent area before the blooms die off. 
Morning glories need a lot of sun, so ensure that they are placed where they can soak up as many rays as possible, and water them thoroughly immediately after you plant them. Also, be wary of how much fertilizer you use on them, if you fertilize them too much you'll end up with a much larger proportion of foliage than blooms, which are what attracts the hummingbirds.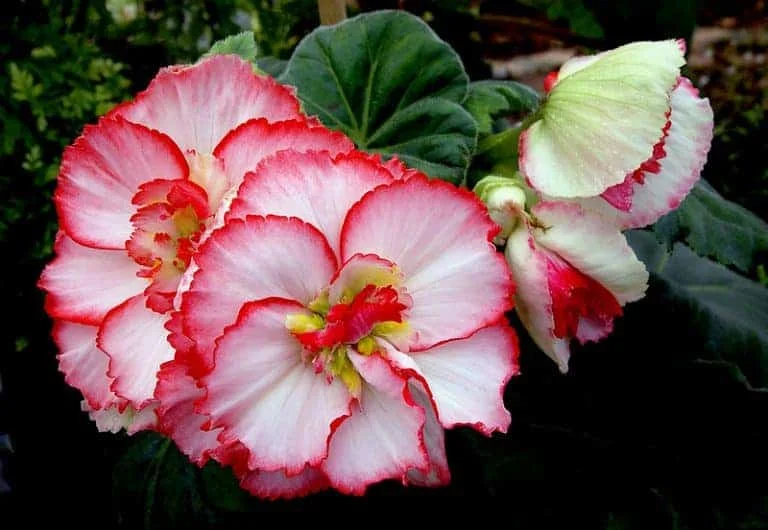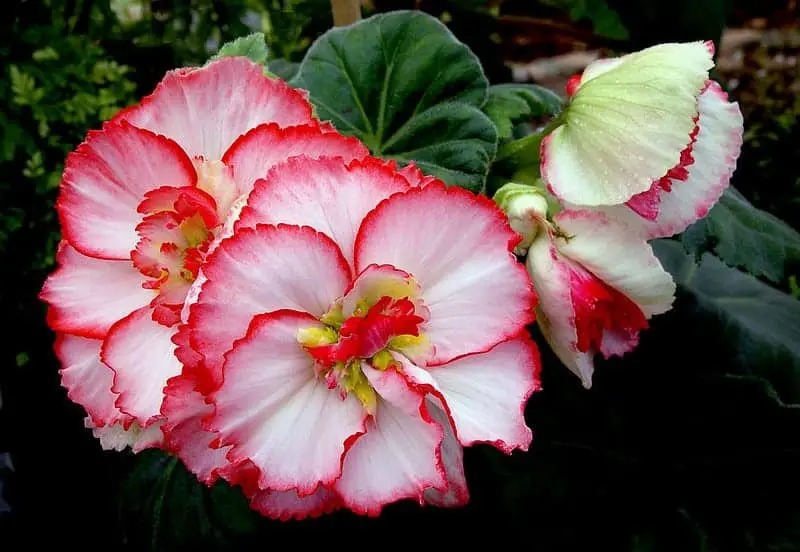 Annual (Perennial Zone 8-11)
Begonias are another popular flower that can bring a great amount of brightness to any shady part of the garden. They are also short, growing only up to one foot tall, so they can mix up the heights of your hummingbird garden plants. Many hummingbird watchers like to put their begonias in hanging pots, similar to with wave petunias, and put them near a window so that they can watch the hummingbirds feed outside their window. 
Begonias, also similar to wave petunias, made Birds and Blooms Top 10 Award-Winning Hummingbird Flowers. The pin up flame variety in particular was lauded by Birds and Blooms due to their "burning" colour palette of orange and scarlet, perfect for attracting hummingbirds. Begonias are also fairly tough and will last from summer through the fall even if the weather turns rough. 
In zones 8-10 begonias can last year-round, the rest of the nation will have to replant them annually. Their long lives make some people mistake them for perennials, so you're bound to get your bang for your buck out of these annuals.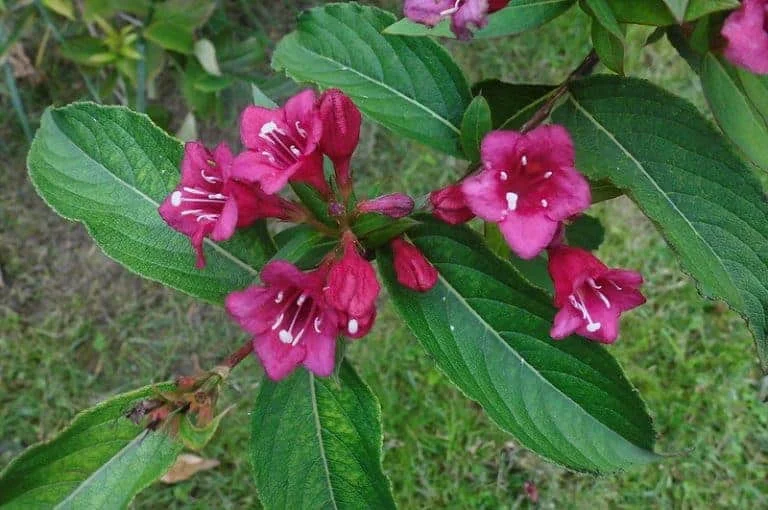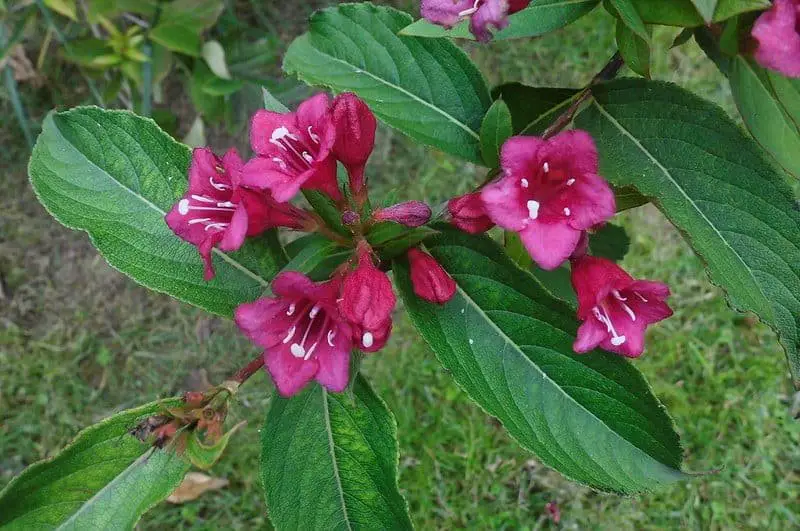 Well drained, rich, loamy
Weigela's are shrubs that grow to heights of 3 to 5 feet tall. They exhibit beautiful trumpet shape blooms that hummingbirds can't resist. The colours of these blooms range from white to bright red, and they will stick around for the majority of the summer season. 
There are different colour combinations available, with tempting names such as "Wine and Roses" or "Red Prince." Weigela grow in an unruly but somehow elegant bush and the blooms grow in clusters. You will need to occasionally prune weigelas and water them, but aside from that they are maintenance free. 
Weigela are a part of the honeysuckle family, a family that is featured many times on this list for a reason, they are just simply built for hummingbirds to feast on. They have also been genetically modified to allow for smaller versions that can fit in tight spaces in your garden more easily, as well as to offer more colour varieties.
Annual (except for warmer zones)
Well drained, slightly acidic
Lantana grow in many different shapes and sizes, but all offer bursting colours of red, yellow, orange, pink, and lavender. Lantanas are made to resist high heat climates and can also resist droughts. They're usually treated as annual, although in warmer climates they can be grown the entire year. 
They reach heights of four feet, but likely won't reach that height when grown as an annual, since they won't have enough time to grow that tall. They are often paired with red salvia to offer a great little patch of hummingbird heaven. They do not require much water and no amount of sun is too much sun for Lantanas. 
Their blooms are small, but still feature the trumpet shape that hummingbirds are searching for. Plant lantana in the dry and sunny spots in your garden where other plants might not be able to take the heat. They are also deer resistant, nothing can take down lantanas.
32. Flowering Tobacco (Nicotiana)
Moist, high organic matter, well drained
Flowering tobacco falls into the same family as vegetables such as potatoes and eggplant, and their appearance is strikingly similar to petunias. The foliage of flowering tobacco is sticky to touch and sprouts into trumpet shaped blooms. 
Typical colours for flowering tobacco blooms are pink, white, red, yellow and green. They vary in height from 1.5 to 5 feet tall. If you purchase them from a nursery, you are more likely to get the hybrid varieties that will be closer to the short end of the height spectrum for flowering tobacco. If you want a taller variety, you will be looking out for what is called the "heirloom" variety, which can only be grown from seeds and will be closer to 5 feet tall. 
They thrive in warm weather climates, but you should plant them where they can get some shade in the afternoon, since all day direct sunlight could be damaging to the plants. Since they like heat, wait to plant them until at least two weeks after the last frost. Also, frigid and damp spring soil can cause root rot for flowering tobacco.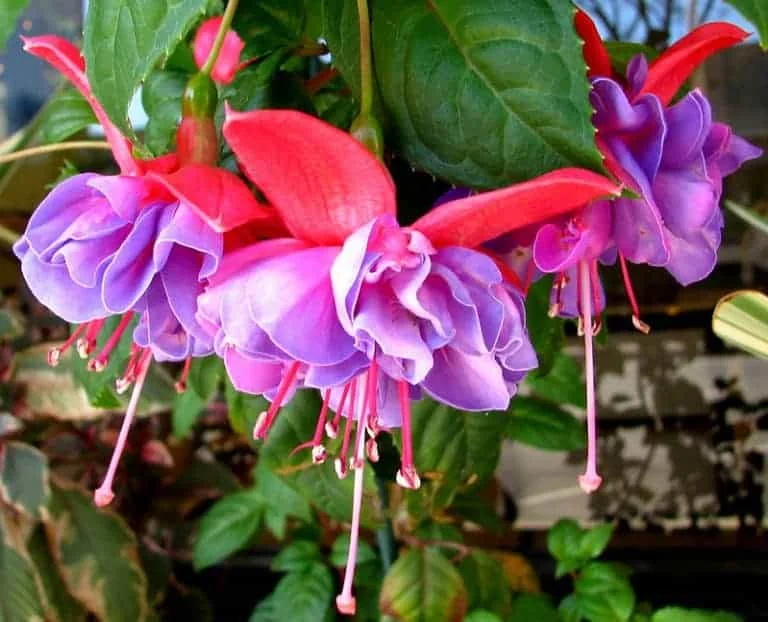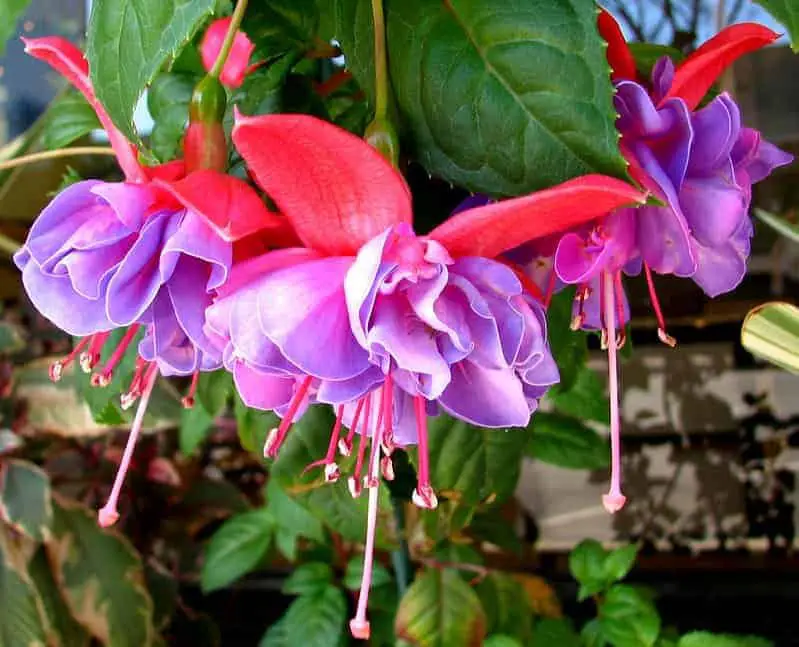 Late spring to early fall
Annual (Perennial Zones 10-11)
Any Soil, Fertile, moist, well drained
Fuchsias are a noteworthy flower because they have adapted to make life easier for hummingbirds. Fuchsia blooms hang downward rather than pointing up toward the sun, which gives the hummingbirds and easier angle of entry when feeding and makes fuchsias some of hummingbirds' favourite flowers as a result. 
Fuchsia blooms are also some of the most unique blooms that you will find, with an outer ring of petals that telescopes into an inner tubular section and then into the pollen tube. Sometimes the colours of these three layers is similar, and other times they are beautifully contrasted, offering your garden a wide range of colours just from one plant. 
Their downward blooms also make them a great option for hanging baskets, allowing the blooms to hang over the edge of the planter. Sometimes the area in between the stem and leaves can be prone to holding insects, and the insects could damage the plants, so keep a close eye out for those.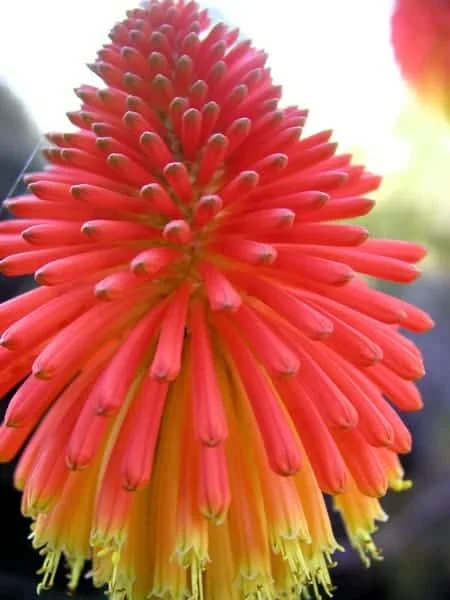 Red hot pokers put on an incredible display of colour to their high density of blooms and low amount of foliage. Essentially red hot pokers consist of only a stem and a massive cluster of blooms, making them the most efficient of flowers in terms of blooms. They grow up to four feet tall and bloom in the early summer. 
They are very susceptible to root rot, so you really want to ensure that you're planting red hot pokers in well drained soil. Some red hot pokers vary in colour as the blooms grow upward and as they begin to die out, which gives them a unique gradient look to them. 
They are sometimes called torch lilies as well, although they are not part of the lily family. Red hot pokers are heat tolerant and drought tolerant, making them great for red hot environments. The gradient varieties described earlier are often called "two-tone" varieties and are hybrids, often shorter in height as well.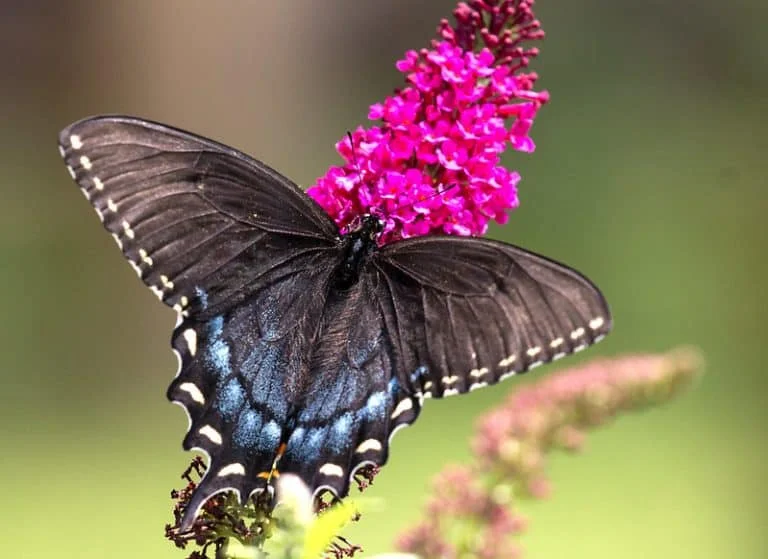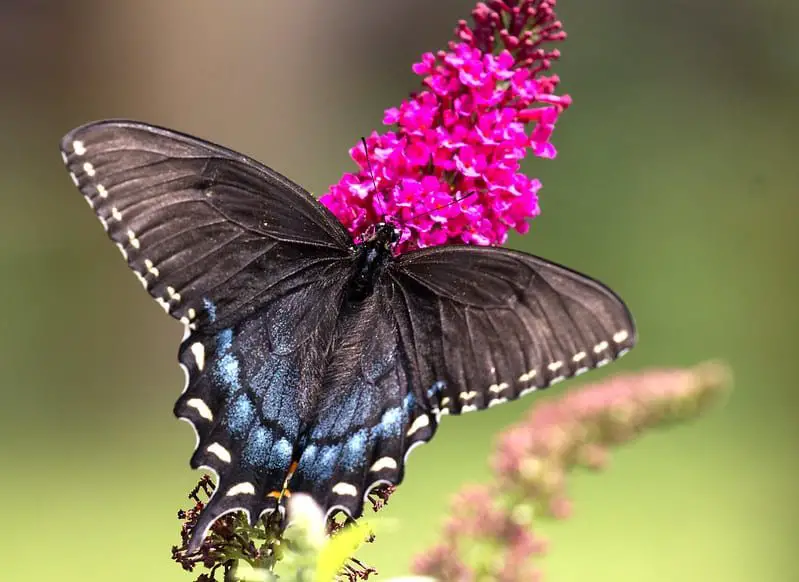 To conclude this list, we have the butterfly bush. If you've managed to read through all of the other flowers on this list (it's a long one), you're aware by now that many flowers that butterflies like, hummingbirds love as well. This is because both have a similar method of retrieving nectar using their long tongues, and the trumpet shape blooms favour both of them. 
Butterfly bush has an incredibly high nectar count, which is what attracts the hummingbirds. The butterfly bush will grow 3 to 5 feet in colder regions of the United States and up to 12 feet in warmer regions. They are massive and can be prone to overgrowing, so don't plan them in any tight space requirements unless you plan on constantly pruning them. 
Give them some space and let them run somewhat wild instead. There is a special three-coloured version of the butterfly bush that is unique and stunningly beautiful with three different colours of blooms on one plant. They also need sun, so give them space to not encroach on other plants, but also space to make sure they get all the sun that they need.
What is the USDA Hardiness Zone?
The USDA hardiness zone expresses the geographic zone that offer proper climate for a plant to survive and thrive. There are 13 total zones, sorted by minimum temperature, with zone 1 being the coldest minimum temperature and zone 13 being the warmest minimum temperature. 
This is supposed to be used as a rough guide for landscaping, so that you know the chances of survival for any given plan in any given zone. Make sure to take a look at the USDA hardiness zone map to see which zone you are before purchasing any plants and see how your desired plant will react in your zone. 
If you live in a colder zone, it's possible that your plant will still grow there, but it could have stunted growth height or bloom time as a result. In some warmer zones, plants that are annuals elsewhere in the nation can actually be grown as perennials, since the temperature and sunshine is adequate to grow the plants for the entire year.
Is it better to plant native USA plants to attract hummingbirds?
If a plant is native to where you are planting it (in this case, the article focuses on plants that grow in the United States), then your local pollinators, including hummingbirds, bees, butterflies, and even non-pollinators like spiders, will be more familiar with the plants and their natural instincts will draw them to that native plant. 
Not all plants on this list are native, but all of them have been growing in the United States for a long time, long enough to gain familiarity with pollinators and hummingbirds. Some non-native plants have been introduced to the United States hundreds of years ago and are now treated as pseudo-native plants due to their long history of growing here. 
If you can find the plant in your local nursery, it is highly likely that that plant is native to the region where you are located, since nurseries usually only sell plants that they know are capable of not only growing in your area, but prospering, and only native plants have a track record of being able to fit the soil profile, climate, and drainage standards of your area. 
Many plants can even be tracked down to which states they are native to, and if you plant a hummingbird garden of plants that are native to your state, you shouldn't have to worry at all about whether or not the plants will survive in your area or if the hummingbirds near you will notice them. Planting native plants takes the guesswork out of your planting and also prevents you from planting something that might die or become invasive in your area.
What other things can help attract hummingbirds to your yard?
If you want hummingbirds to visit your garden, why wouldn't you also make a place for them to stay? Some plants are especially ideal for hummingbird nests, such as trumpet vines, and can actually make your yard a hummingbird feeding ground and residency. They will often use lichen and spider web to make some very small nests on horizonal branches.
Hummingbirds expend massive amounts of energy just from flying, so it's critical to provide them some places to rest or perch. They will often perch to take a look around and see where they want to head next to feed, nest, or otherwise. Try to make some perches out in the open and some perches hidden, for when the hummingbirds need to hide from predators.
Some insects are the pollinator rivals of hummingbirds, but others are a crucial part of their diet. Nectar only forms part of the diet of a hummingbird, and insects are a vital source of protein that keeps their wings flapping at 60 beats per second. 
As stated before, they also use spider webs to make their nests, so you'll also need to provide a home for the spiders that provide a home for the hummingbirds. To do so, don't use pesticides on your garden, you need those bugs around. Also, include some plants that are pollinated by insects rather than hummingbirds, or you won't be seeing many insects around your garden. Keep a compost area with fruit or peels near where the hummingbirds feed, which will attract flies for them to eat.
What are the best trees to attract hummingbirds?
Crabapples – crabapple blooms are bright red and pink and sometimes white, and they're also hardy enough to be grown all over the United States. They also provide a source of food in the crabapples for other animal around your garden.
Eastern Redbud – redbuds bloom very early, which is important for your hummingbird garden because you want to make sure that your garden doesn't only have blooms for a couple of months out of the year. Ideally, you want blooms throughout the entire year so that hummingbirds never run out of nectar sources. If you live up north, keep in mind the hummingbirds will migrate during the winter (since there are no blooms in the cold winters).
Eucalyptus trees – we already mentioned eucalyptus trees earlier and their ability to host hummingbird nests, making them one of the most desired hummingbird garden staples.
Horse chestnut – horse chestnut trees grow clusters of blooms, which hummingbirds love because they are able to visit multiple blooms in a short amount of time, expending as little energy as possible while still intaking a large amount of nectar.
Northern Catalpa – Catalpa also offer clusters of blooms that will attract hummingbirds from all around. They have unique blooms that resemble orchids and also have large leaves and fruit that resembles bean pods. This eccentric tree will liven up your hummingbird garden.
Silk Tree – Silk trees have pink blooms that have a fluffy appearance to them and they are hardy enough to survive in most conditions, but can be so hardy that they become invasive, so be careful.
What combination of flowers would allow for a long bloom time?
To get the most out of your hummingbird garden for the entire year, you want blooms the entire year, this means mixing early blooming plants with late blooming plants to make sure that there isn't a period in the year when your local hummingbirds will be needy for food sources. 
Here are some examples:
Bee balm (blooms mid-summer into fall)
Manzanita (blooms early spring)
Columbine (blooms in late spring)
The above combination of just three plants will provide nectar to hummingbirds from early spring all the way into the end of September. 
Here's one more example:
Coral bells (bloom late spring, early summer)
Begonia (bloom early spring to fall)
Morning glory (blooms August to September)
In this case, since morning glory might have a shorter bloom time in colder areas, you can supplement them with a long-blooming plant such as begonia to make up for bloom time lost from the morning glories. You can mix and match on this list to find a combination that suits you and your hummingbird garden desires.
We are avid bird-watchers who recently retired, allowing us more time to travel the world. Fortunately, we have managed to visit numerous countries around Europe, Asia, and America. Watching and photographing birds has been a passion for many years and we are making the most of the extra time on our hands!