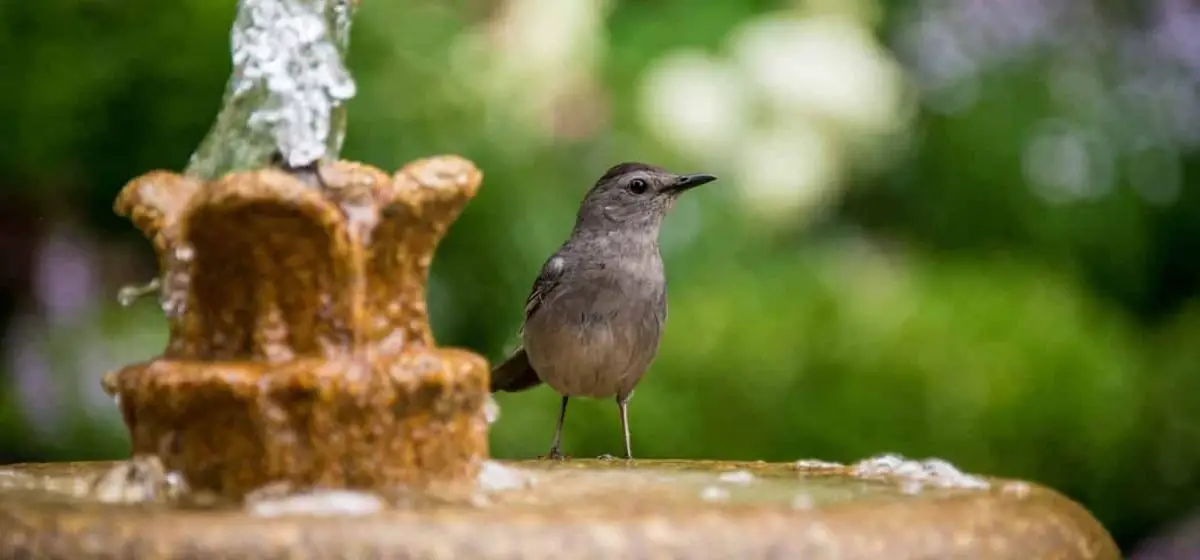 Bird baths can offer your local birds a place to hang out and a nice way to take care of themselves. However, traditional bird baths can come with a few key problems. A heated bird bath is like a traditional bird bath, but it also offers temperature control options. No, your local birds do not necessarily want to drop by for a piping hot bath. However, when it gets colder, a heated bird bath can make a world of difference. In fact, these heated alternatives can provide local birds with plenty of help regarding their daily needs, and can make their lives a little easier.
As the seasons change and temperatures begin to drop, water begins to freeze. While we might love ice skating, birds are actually placed at a large disadvantage by this development. Whether it is the middle of winter or the water is just freezing at night, birds do not have an appreciation for frozen water. They can't drink it and they certainly do not want to use it to clean themselves. Fortunately, heated bird baths offer a helpful alternative solution. A heated bird bath can keep water at an appropriate temperature for the local birds in your area, which they will gladly appreciate.
When the nights grow cold, birds run into more problems finding good clean water. By providing them with a helpful bird station, you are making it easy for them to tend to their needs whether or not the elements are working in their favor. These bird baths make it easy for birds to comfortably clean themselves or grab a drink, and it even makes it easier than ever for you to enjoy bird watching from the comfort of your home. Since birds are known for getting dirt and dust in their feathers which can negatively impact them, it is important for them to be able to manage their bodies. Another large problem is that birds can be prone to dehydration in areas where water is not easily accessible. You will provide a service to each bird by making it easy for them to access clean water at a reasonable temperature, which can drastically improve their quality of life.
What is the best heated bird bath?
When you are looking for a good heated bird bath, chances are that you want something that will go nicely in your yard. This bird bath is a great option for individuals who are looking for a simple bird bath that also adds a bit of subtle design flair to their yard. This bird bath, with its adorable ivy design, is a showstopper when it comes to adding something nice to an outdoor space. It's calm black color makes it easy to place anywhere, but its fun design also makes it stand out in an appealing way. The design is prominent enough to be worth the investment but subtle enough to make it an easy choice for just about anyone.
This bird bath offers many helpful features including a black collapsible stand. If you like to easily store your bird bath when winter truly hits, this makes it easy for you to stash it away in storage. Even better, this product is made from 50% recycled ABS plastic, which makes it a helpful addition to a green household. When you pair this with a design that is great for offering temperature controlled water for your local birds and its completely easy to clean design, it is no surprise that people absolutely love this product.
With this amazing heated bird bath, you can easily dress up any yard with a bit of organic flair. Its hardwood design makes it an obvious choice for those who are looking for a bird bath that will suit the natural look and feel of their yard. Not only does this offer an all natural appearance, but it is paired with a remarkable craftsmanship that is guaranteed to make you the envy of all of your neighbors. It has an organic appearance, but its elevated attention to detail in design makes it a cut above the rest. You will love how this makes your yard look even better, particularly when it is placed near flowers.
This unique design is sturdy and reliable, with plenty of standing room for local birds. Its easy to use ledges make it great for birds of all sizes, so you can enjoy watching a wide variety of friends as they drop by. This wonderful bird bath is also fitted with an easy to use 60 watt heating element that is designed to turn on when the temperature hits freezing.This means that you can save on the operating cost by only running it when it is completely necessary. It is able to support your bird's water supply all the way down to below 20, so you can happily use it year-round. Birds in your area will be thankful for the help, and you can rest easy knowing that you are providing a good service to them.
Depending on what your needs are, this might just be the perfect heated bird bath for you. This versatile unit can be used alone or with a stand of your choice to provide the local birds in your area with a nice bath setting that is perfect for use year-round. The birds in your neighborhood will be so happy to have a safe and warm place to visit throughout the year, and you get the benefit of adding a beautiful bird bath to your yard. 
Its subtle colors are perfect for bringing a simple addition to just about any yard, and it is a nice size for small and medium-sized birds to drop by. The real win with this bird bath is its versatility. With this design, you can either use it as is or place it on a nice stand to help dress it up. It is a good size for different kinds of birds, making it one of the friendlier options on the market. In fact, this amazing heated bird bath is even equipped with specially designed mounts to make adding it to any stand easy so you can reach birds that might not be comfortable on the ground. Its heated design offers a guarantee that the bowl will stay warm and the water will stay at a good temperature no matter how cold it gets, making it ideal for parts of the year where the days are warm and the nights are cold.
Some people want a heated bird bath that always looks summer ready, and this is one bird bath that excels in this area. Available in two different color sets, this is a nice large bird bath that is perfect for a wide variety of small and medium birds, particularly the ones that enjoy shallow water. With this amazing bird bath, you can provide local birds with a complete bird bath experience without ever having to worry about spending too much money. Not only does it come at a reasonable price, but it is also able to operate in a way that saves you money on electricity. 
In fact, this product proudly touts its operating cost of mere pennies a day because it has specially formulated technology that identifies when it needs to heat the bowl to a reasonable temperature and when it does not.
A major selling point for this product is the versatility of its design. This simple bird bath is made to be used in a variety of settings including on the ground, on a stand, and even mounted to a deck. It is equipped with systems to accommodate these needs, making it easy for you to move it around as you see fit. This is what makes it so perfect for use through various seasons. You can easily move this bird bath around to see which birds are more interested in, testing out just how visible it is for any birds that fly by. The bright colors make it an ideal choice for attracting curious birds.
This great bird bath from Allied Precision Industries does an excellent job of offering a complete bird bath experience that is guaranteed to make your yard look that much better. Its classy and simplistic design is perfect for a variety of settings, and no matter what, you can count on it to suit the fancy of local birds in your area. This product brings together a great combination of style and function, offering you a product that looks good and will provide the perfect hangout spot for the birds in the neighborhood.
The bird bath is a wonderful twenty inches in size and stands atop a slender black stand that is sturdy and reliable. It offers a built-in thermostat so that you can always check on the temperature of the water to make sure that your birds are having a pleasant experience. Using effective heating technology, this bird bath will stop water from freezing no matter how cold it gets. More importantly, it offers a pleasant perch that makes it easy for birds to drop by for a visit. This will quickly become a popular hangout spots for birds in your area.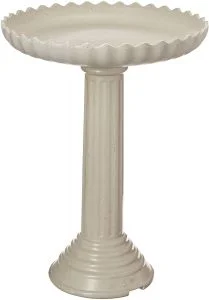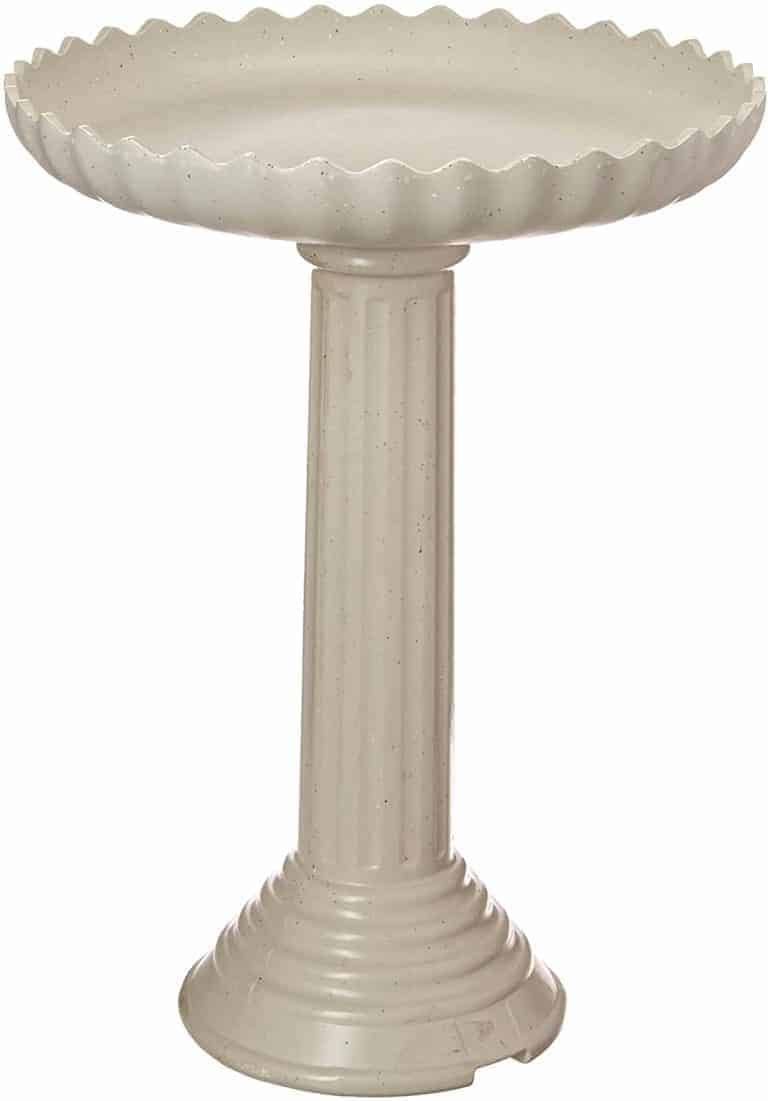 Some bird baths are made to look natural while others are designed to offer something truly special from a design perspective. This unique heated bird bath is stylized in such a way that it is a little fancier than some of the alternatives. For those who pride themselves on a well-designed lawn, this might be exactly what you are looking for. It is simple, yet designed in a way that alludes to many ancient Roman styles, making it a little more noble than some of the competition. To instantly dress up your yard with a dignified air, look no further than this wonderful product.
This amazing design is created to offer you the structural integrity of concrete bird baths without any of the additional weight.
 You can enjoy this beautiful long-lasting design that is easy to clean and made to stand strong against weather of all kinds. With an easy to use plug, you can provide the local birds in your area with a nice supply of water that won't freeze so that they can enjoy hanging out in your yard. As an added benefit, this company is proud to offer a three-year limited warranty that makes it easy for you to trust in the integrity of their products.
Adding a bird bath to your deck is an excellent way to bird watch with absolute ease. You can enjoy the comfort of seeing birds as they gather without having to go outside and disturb them, making it ideal for spotting some of the more skittish birds. During warmer seasons, you can spend many pleasant hours sitting on your deck and watching birds as they come and go. Since it is elevated, you will deter unwanted visitors, and you can enjoy getting up close and personal with the local birds in your area. This one is particularly beneficial for bird watchers and photographers looking to get a little closer to their feathered friends.
The biggest perk with this product beyond the general ease of use is the way that it can be cleaned. Its simple design is perfect for easy maintenance, making it a great chore for kids and a simple chore for you. Simply tilt the bird bath over to empty any unclean water, give it a quick spray down or a proper wash, and refill it. This simple design is made to be cleaned in a mere matter of minutes as often as you want and it also provides a great space for local birds to perch. It will keep water at the perfect temperature all throughout the year, and it looks great while doing it.
Some bird lovers would prefer that their bird baths not be too fancy, which is what makes this such a great option. With its simplistic and unassuming design, you can enjoy placing this bird bath anywhere. It will blend perfectly into any yard, and it is small and simple enough to really just offer its services in an easy way. You will find that this wonderful and easy to use product suits the needs of your local birds just fine.
When this company set out to make a bird bath, they aimed to make a product that would last and serve their customers well for years to come. 
With this basic style, you can provide birds in your area with a nice place to hang out without having to worry about dealing with any extra functionality. This bird bath was built to last long, even with exposure to the elements, and provide birds in your area with a nice and easy place to hang out. This sturdy design is perfect for adding a little birdy benefit to your yard in no time at all!
A great addition to any heated water bath is a fountain pump. Birds often seek water by its sound rather than by its sight and hence it is a fantastic way to attract more birds to your bird bath. Birds also enjoy to wash and drink from moving water sources. 
Many water bath fountain are solar powered and only require batteries as a back up. This is a sustainable, effective and affordable addition to any heated bird bath. Here are our top picks:
For the household that is committed to going green, this solar powered pump offers a variety of obvious benefits. With its easy to use solar powered design, you can enjoy a variety of eco-friendly perks without needing to worry about whether or not the device will contribute to environmental problems. Its wonderful solar powered design makes it perfect for adding some watering benefits to your yard or bird bath without necessarily causing your monthly electricity bill to go up. You can feel good about running this pump all day and night! It is easy to set up and is perfect for people who don't want to worry about a lot of maintenance.
This simple product is able to sustain itself and will do a great job at the same time. This pump offers a simplistic and easy to use design that is also incredibly appealing to look at. Unlike some of the other pumps that look a bit more technical in nature, this product comes with a sleek design that is perfect for adding a benefit to your yard without making it look unappealing. It comes as a simple round disk with a singular fountain, making it the perfect addition to your yard no matter where you put it. Birds will love the easy rain-like feel of the water when it is placed in their bird baths. However, its great design also looks wonderful in fountains and plants. You will love seeing the way this product can benefit your yard with its beautiful look and its helpful functionality.
If you are looking for a device that is both small and powerful, look no further. This amazing solar powered fountain pump is the perfect addition to any bird bath. It's miniature design makes it ideal for smaller bird baths, but what it lacks in size it does not lack in function. Even though this product is much smaller than some of the others on the market, it does a wonderful job of circulating water and providing birds with a nice and fun way to cool down on a hot day. This powerful little device is great for suiting all of your fountain pump needs, and it looks great while doing it.
The Dinors Solar Fountain Pump brings together the power of the sun with a great pump design. This means that you can rely on this product to be entirely self-sustaining, all while making it easy for you to keep your bird bath equipped with fresh flowing water. As an added bonus, this fountain pump actually offers a wide range of uses including adding water features to gardens, aquariums, and more. You will love plugging this little guy in and seeing what it can do. With a powerful force of water and the money that it saves you on your electricity bill, it is easy to see why people love this product as much as they do. It also comes in multiple watts, and even has the added benefit of a long-lasting design that is guaranteed to make it an investment for the long-haul.
When you look at this water fountain, it is easy to see right out of the gate why people love it. The JuTai Water Fountain Bird Bath Pump is not only a completely helpful solar powered water fountain pump for bird baths, but also a design element in and of itself. This fountain pump is perfect for showing off with its uniquely beautiful appearance. This pump is shaped like an adorable flower, adding a little something extra to an already great product. This cute design is something that you will love adding to your bird bath, but you will also love moving it to your garden, pond, and more.
Like other popular fountain pumps, this solar powered pump is the perfect way to get water flowing where you need it. The solar power design is completely self-sufficient, so you never have to worry about powering it using your home's electricity. This eco-friendly option is great for bringing together a collection of helpful functionality while also allowing you to go green. With this device, you can enjoy a powerful pump with a lively fountain that is made from high-quality materials and incredibly durable. This company even offers a complete warranty and excellent customer service to help meet all of your needs!
When you are looking for a bird bath fountain pump, you want something that is easy to use that you can trust. This stunning solar powered bird bath fountain pump makes it easy to meet your needs in no time at all, which is why you are guaranteed to love it. With its solar powered build, you can easily gain the benefits of a fountain pump without needing to worry about increasing your electricity bill. It offers a complete product that is self-sustaining and easy to use so that it works for any need, bird baths and beyond. The really great thing about this pump is not only that it is self-powered, but that it is incredibly versatile. 
Though this is a truly wonderful bird bath fountain pump, its easy to use design is perfect for use in other circumstances as well. Whether you are looking for a boost to your bird bath or you want something that is more beneficial for your plants, this product is great for users of all kinds. You can enjoy the power and brilliant design of this product. It is made from durable materials that are made to last long over the years so that you can truly cash in on your investment. Even better, it offers a unique spray pattern that is great for catching the interest of birds, keeping plants cool, and much more. You will love how this pump works long and hard whether it is a sunny day or a cloudy day, and it even works if shadows end up blocking up to four of the solar panels on a sunny day too!
How to attract birds to a bird bath?
Attracting birds to a water bath is very easy if you offer them a sheltered, clean and colorful water bath. Place your water bath beside trees and in shaded areas for the best effect. Be wary however of your water bath freezing in the winter time, consider buying yourself a heated birdbath!
Just like people, birds are social creatures that like to gather and mingle from time to time. Unlike some people, birds also like to take baths. There is nary a puddle that goes without having a bird fluttering its wings and bathing itself no matter the time of the year. This can be frustrating for those who have purchased birdbaths that seemingly go unused. 
What follows are a few tips on how to attract birds to a birdbath. The techniques are fairly simple as the birdbath itself is a major attraction. All you really need to do is make it attractive for the birds and identify anything that might keep them away.
You should get a water bath that has a water depth of no more than 2-inches in the middle. What if your existing water bath is deeper? Fill it with stones and rocks, birds love to stand on rocks when drinking and bathing.
Different colors attract different types of birds. If you are looking to attract a certain type of bird, then here is a guide to finding the right color. 
⦁ Blue: Bluebirds and Jays
⦁ Yellow: Goldfinches, Hummingbirds, and Warblers
⦁ Orange: Hummingbirds and Orioles
⦁ Red or Pink: Hummingbirds
Every so often you should clean the birdbath by washing away any droppings, dirt, or debris that collects along the sides. Change out the water every so often as well. A clean birdbath will help maintain its status among the birds who use it. About every year you should drain the birdbath and scrub the interior to keep any unwanted growth from occurring.
Keeping a clean birdbath is essential to keeping a healthy Eco-system in your yard. Thriving wildlife in your yard will create so much food that will attract birds from far and wide. Ensure that that you baths, feeders, and other bird accessories are cleaned regularly to stop the cultivation and spreading of diseases.
Birds will often seek out water by its sound rather than by its sight. Using the heightened sense of hearing, the sounds of running water will attract them from far away. A water fountain in the middle of your water bath can be a great solution, solar powered fountain pumps can be placed in any water bath to create running water by harnessing only the power of the sun! A mister can also be especially attracted to some rare and beautiful species like the hummingbird.
This is a bit of a quirky tip but can work extremely well especially to a brand new water bath! If you live in a populous neighborhood with some background noise it can be difficult for birds to locate your birdbath by both sight and sound. Playing the recordings of songbirds will grab any surrounding birds' attention and will encourage them to investigate.
We only suggest this tip if you are struggling to attract any birds at all and should stop playing recordings once a few birds visit. The noise of other birds might distress bathing birds and will actually work against you if you are not vigilant!
What different types of bird baths are available?
Bird baths come in many different styles, with the primary differences being in design and material. These differences make it possible for birds of different kinds to comfortably visit your bird bath. When it comes to design, bird baths are created to be on the ground, on a pedestal, or hung. They are also commonly available in plastic, ceramic, and metal. These distinctions appeal to different kinds of birds and make it easy for you to find a way to locate a bird bath that suits the style of your yard.
Ground-based bird baths are better for appealing to larger birds and ground feeders. These easy to use bird baths can be laid on any flat surface and make it possible for you to clean with absolute ease. 
Pedestal bird baths are known for their elevated design, which is exceptionally beneficial for people looking for more of a classy design element. These bird baths come in many different styles making it possible to find one for everyone. 
Hanging bird baths are great for those looking to attract birds that are smaller in nature. Birds will enjoy perching on these baths for a quick drink and visit.
In addition to these different designs, bird baths come in three distinct materials. 
The first material is plastic, which is resistant to the natural elements, easy to clean, and will not retain as much heat as some of the other styles. 
Ceramic is the most popular type of bird bath, with many companies using this material for the actual bath bowl. It looks very nice and is incredibly easy to clean. 
Metal bird baths are also popular because of their unique appearance, but they do come with certain drawbacks. First, metal is known to retain heat. Second, depending on the kind of metal that you choose, it can be prone to rusting over time. Some bird baths combine materials, offering a metal base with an alternate bowl.
What to look out for when buying a heated bird bath?
Buying a heated bird bath involves some considerations regarding your personal design preference as well as the environment that you are currently living in. Depending on your needs, the right bird bath for you might be different than one that could be right for a friend in a different state. In order to find the best possible bird bath that suits your needs, you will want to take time to really consider what you are looking for in a bird bath.
The first place to start when considering what kind of bird bath is right for you is to consider your personal preferences for design. Bird baths come in all shapes, colors, and sizes. You want to choose one that will either match your existing yard decor or align with the design that you would like to see around your home. For this reason, many people will look for bird baths that are more natural in color. Neutral colors are popular because they will blend in with the yard and because they tend to be more mature in appearance. However, there are benefits to choosing a more artsy style of bird bath instead. You might not know if a brightly colored bird bath is right for you, but it is important to consider that birds are curious by nature and many of them are drawn to bright colors. Decide what is important to you and look for one that is appropriate for your yard.
In addition to general appearance, you will want to consider the functionality. Not all bird baths are created equally and some offer extra perks. A basic heated bird bath might simply aim for a single temperature, while other bird baths make it possible to control the temperature completely. It can be helpful to decide what you are looking for in this regard. Some bird baths offer thermometers so that you can actually check on the bath itself, while others offer additional perks like power save modes that will actually turn the bird bath heater off when the target temperature has been reached. These elements can also influence how effective a heated bird bath is in a specific area. Purchasing a bird bath with smart technology will likely be more beneficial when it comes down to finding one that works in areas known to get exceptionally cold. Their advanced technology makes them more capable of keeping the water heated, even when faced with freezing temperatures.
A final consideration to make is the materials that the bird bath is composed of. You might want something that lasts longer, which can make certain materials more appealing. Transversely, you might want a material that is resistant to extreme temperature changes or easier to clean. Take time to consider what is really important to you in this regard so that you can make an educated decision.
What are the benefits of a heated bird bath?
The biggest perk for birds when it comes to heated bird baths is generally presented during the off season. As it gets colder outside, water sources in your local area will begin to freeze up. While we might enjoy the beautiful ice that is crusting over local ponds, for birds it presents a few problems. Birds require water and when they don't have easy access to it, they can find themselves in quite a bit of discomfort or even danger.
Heated bird baths make sure that birds have access to water, even when its cold. On one hand, this means that you are helping the birds to stay completely hydrated so that they can enjoy their time spent outside. Birds, like any other creature, need access to clean water, and this provides them with an easy to reach source of water. On the other hand, birds use water to clean themselves and clear out dirt and dust from their feathers, which can impact their comfort and make it more difficult for them to fly.
How much does it cost to run a heated bird bath?
Running a heated bird bath might seem like a drain on your electricity bill, but the fact is that it really isn't. In this day and age, the majority of bird baths make it easy for you to operate them and they actually require a surprisingly low amount of energy to do so. In fact, some bird baths now come with power saving technology that makes it possible for them to use less when they need less, so you can operate your bird bath for a mere matter of pennies on any given day. Even bird baths without this technology are still going to operate for much less than a dollar a day.
What temperature should a heated bird bath be at?
Many people make the understandable mistake of assuming that birds, like us, enjoy a nice warm soak, particularly in winter. However, this actually isn't the case. In reality, birds have different needs than us when it comes to drinking water as well as bathing water, so before you crank up the heat setting on your new bird bath, take some time to really consider what your local birds are looking for.
In general, most heated bird baths should be set to somewhere between 40 and 50 degrees Fahrenheit. Birds, unlike us, prefer to enjoy their water at a nice room temperature. While this surely won't work out when it comes to providing them with water in winter months, that doesn't mean that they want a piping hot bath even then. Birds like a neutral temperature, which is important for their health and safety. Each bird might be a little different, but it helps to consider how birds operate in nature. In nature, ponds and lakes are not generally warm at all. In fact, most people agree that a dip in the lake requires time to get used to. Since this is the temperature birds are aiming for, it makes it easier to understand why you want to keep that temperature gauge fairly low.
What is the best size for a heated bird bath?
Choosing the right size for your bird bath is not simply a matter of picking a set amount of inches for the diameter. In reality, you want to choose a bird bath size that actually suits your needs and the needs of the birds that you are hoping to appeal to. Bird baths are great for many different kinds of birds, but birds come in many different shapes and sizes and have their own preferences for their bird bath options.
If you want to attract plenty of different kinds of birds, bigger is generally better. A 20-inch bird bath is a helpful size for many differently sized birds, making it easy for you to appeal to birds of all kinds. If you are going to use a bird bath of a larger size, it can be helpful to make sure that the edges are thin enough for perching. Additionally, you want to find a bird bath that is only one or two inches deep, as this will appeal to more kinds of birds. Though some birds enjoy paddling across a nice lake, the majority are simply looking for safe and easy access to water.
How often should I clean my bird bath?
How often you clean your bird bath is really a matter of finding a regimen that works for you. Depending on a few key factors, you might need to clean your bird bath weekly or monthly. However, do not confuse the cleaning process with offering fresh water. You should aim to refill your bird bath daily with fresh water regardless of whether or not birds have dropped by. This will keep the water clean and fresh, which will make it easy for you to spend more time between necessary cleanings.
When it comes to determining when you should clean your bath, you should consider two key things: the number of bird visitors and the elements that your bird bath is exposed to. If your bird bath is constantly collecting dirt from a nearby field, it can be beneficial to focus on cleaning it the moment that you see the dirt beginning to collect. It might mean once or twice a week, or it might take less time. At the end of the day, if you can see any grime, it is time for a clean. On the other hand, if you are noticing plenty of bird activity, chances are you have a certain amount of filth building up. Frequent bird activity can make it necessary to clean your bird bath once a week, but if you just have a few polite bird visitors, you might be able to get away with doing it once or twice a month instead.
Why do bird baths turn red?
Bird baths turn red due a red water-based algae known as Haematococcus Pluvialis.
Those of us who like to keep birdbaths amongst the shrubbery of our gardens may have noticed something rather… odd. After a short while, the once clear water begins to take on a deep red colour, sometimes even staining the birdbath itself.
Many birdwatchers might initially be concerned; after all, an unexpected red tinge can be quite jarring, especially if you've not encountered it before. Don't worry, though: the red hue isn't anything you need to think twice about – it's simply a water-based algae!
Is a red bird bath harmful to birds?
Whilst some algae can be considered harmful, the red algae (known as Haematococcus Pluvialis) commonly found in birdbaths shouldn't concern you. It's generally thought that this algae does not affect local avian wildlife in any way – it might, however, deter some species from stopping by your birdbath, resulting in a significant reduction of local flighted visitors.
The algae isn't harmful to birds, but this doesn't mean that it won't be harmful to you or any of your pets. As a rule of thumb, if you notice that the water has turned red, you should clean the bath and change the water as soon as possible.
Should you clean your bird bath if it's red?
Yes! Although the red algae isn't harmful, by cleaning the algae from your bath are that you'll likely see an immediate increase in the number of birds (and maybe even different species!) stopping at your yard.
Good news: it's actually very easy to clean your birdbath! You don't need to purchase any specialist or unique cleaning products, as most of the time, a simple soap-water mixture will do just the trick.
How to remove red stains from your bird bath?
To start with, you need to empty out the birdbath – you can then remove the red stains by vigorously scrubbing at them. Don't be afraid to use a bit of pressure, as algae can settle incredibly firmly within the cracks and surfaces of your bowl – you may even have to use a bristly brush or a common scour.
Birdbaths can be made from a multitude of different materials, though most commonly, they're built using plastic and stone. Both of these should react well to natural, non-chemical soaps – all you'll need is a little bit of time (and a fair amount of elbow grease)!
Once you've managed to remove any dirt and stains, it's important to rinse the bowl. You'll need to give it a good spray-down, just to make sure that any cleaning products have been removed. This will eliminate the risk of a bird accidentally drinking a soapy solution, potentially causing some discomfort or illness.
Chemical cleaners absolutely must be avoided at all costs, as they can cause permanent, lasting damage to many species of birds – in some cases, the harsh chemicals may even result in death.
How to avoid getting red stains in your bird bath?
If you want to avoid the likelihood of red algae, there are a few steps you can take:
Change the water
When you change the water, you're creating a cleaner environment that will discourage any algae from forming in your birdbath. This is also likely to encourage more birds to visit – they need clean water, too!
Move the bath into a shaded area
Red algae absolutely LOVES the sunshine: keep your birdbath in the shade and you're much less likely to have to remove algae in the future.
Where should you place a birdbath? 
Near a tree is a good place for a birdbath, giving the birds a place to perch before and after using it. Plus, the tree provides some shelter for the birds to flee if spooked. Having the right cover nearby will help attract the birds and make them feel more comfortable about using the birdbath. However, remember not to place a birdbath directly under a tree or cover as the birds flying overhead will not see it. 
Ensure that your birdbath is placed in a well shaded area. This will not only give the birds some privacy and comfort while bathing but will also help to keep the temperature of your birdbath down. A hot water bath is an optimum breeding ground for bacteria and diseases and will therefore need to be cleaned and refilled more regularly.
What happens to birdbaths in the winter? 
This problem will vary in magnitude depending on the climate in your area. If snow and ice are a regular occurrence where you live then you should consider buying a heated water bath. Birds need water all year round and the wintertime can often be the hardest part of the year to find it. By using a heated water bath you provide an essential source of water for birds during a difficult season and will guarantee that your yard will be home to many grateful birds.
Understanding how to attract birds to a birdbath will help make your investment even more enjoyable. You might have to be a little patient at first when placing your birdbath, but if you follow the right course of action, you will have birds gathering to the bath regularly.
Another option is to create your own DIY Bird Bath!. This video from Andrea Lutz shows a quick and beautiful way of creating your very own water feature!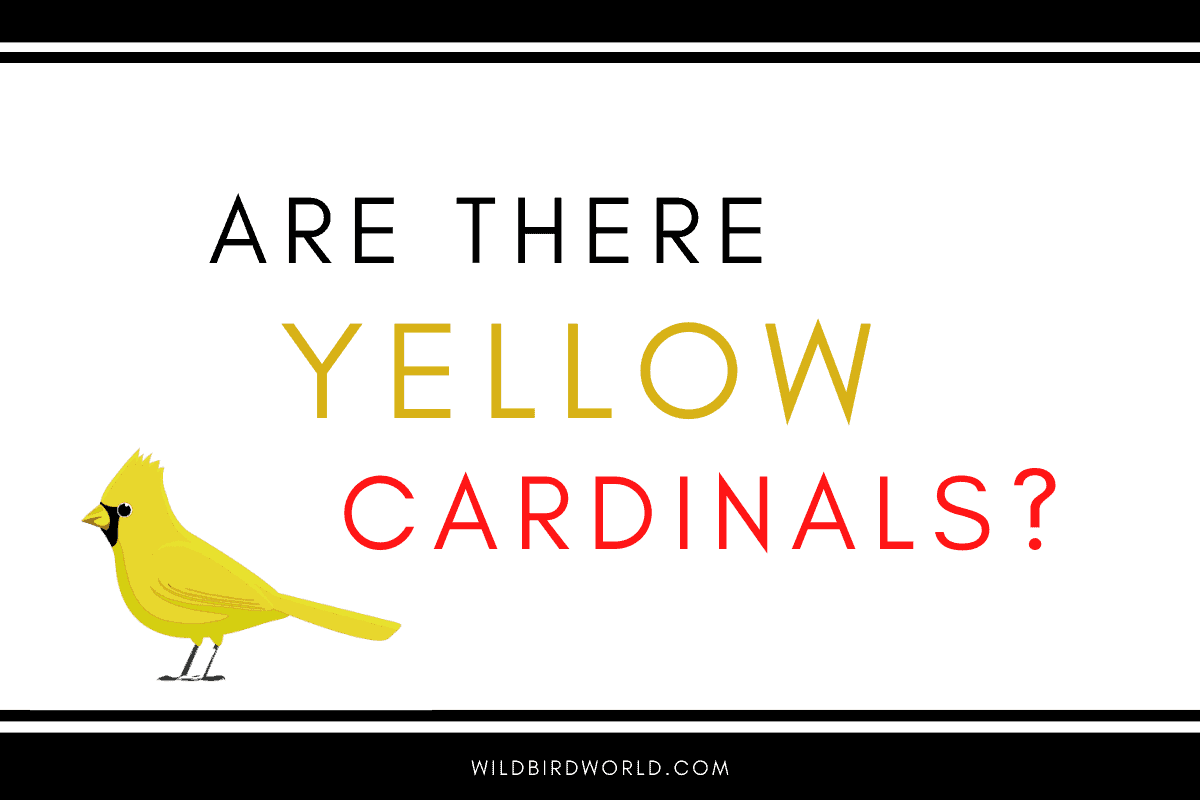 Birds are known to come in many different colors. Even birds of a similar species
Read More »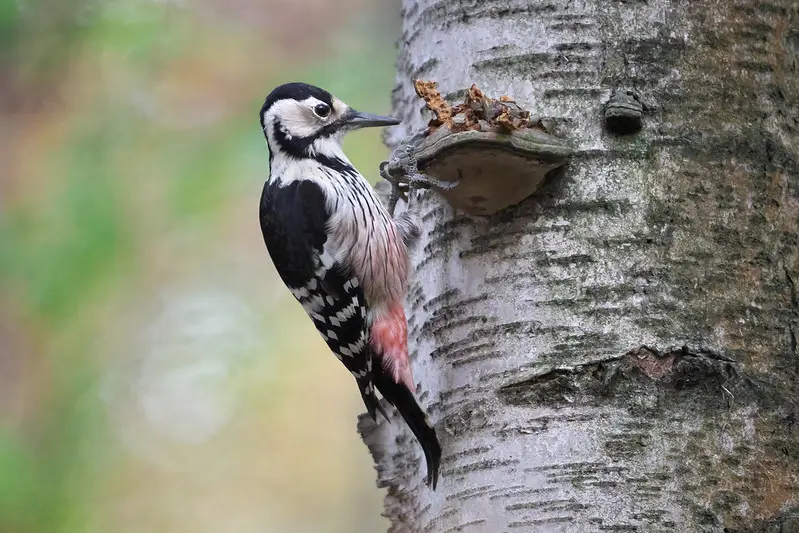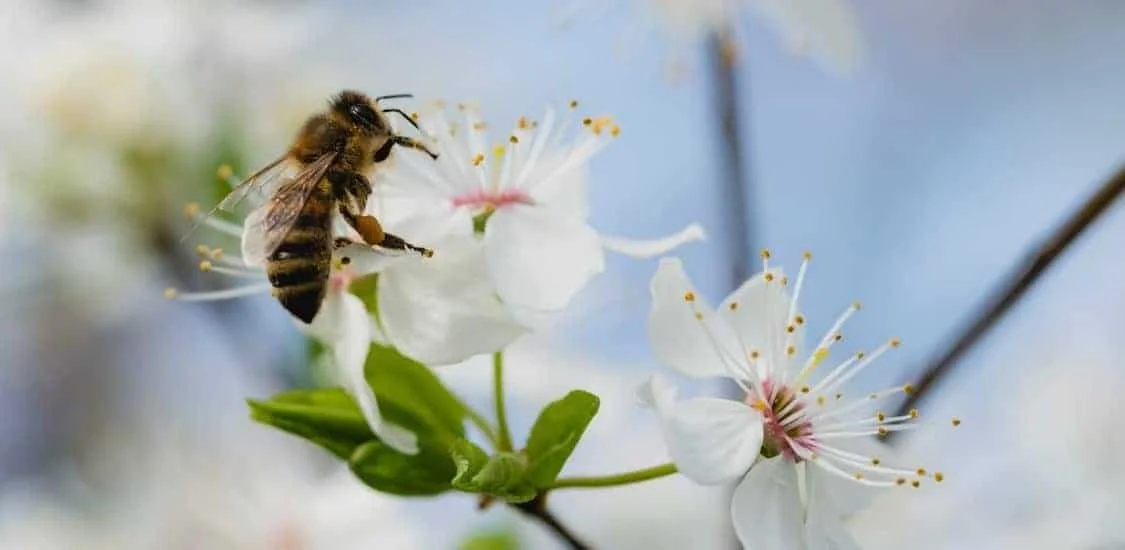 We are avid bird-watchers who recently retired, allowing us more time to travel the world. Fortunately, we have managed to visit numerous countries around Europe, Asia, and America. Watching and photographing birds has been a passion for many years and we are making the most of the extra time on our hands!