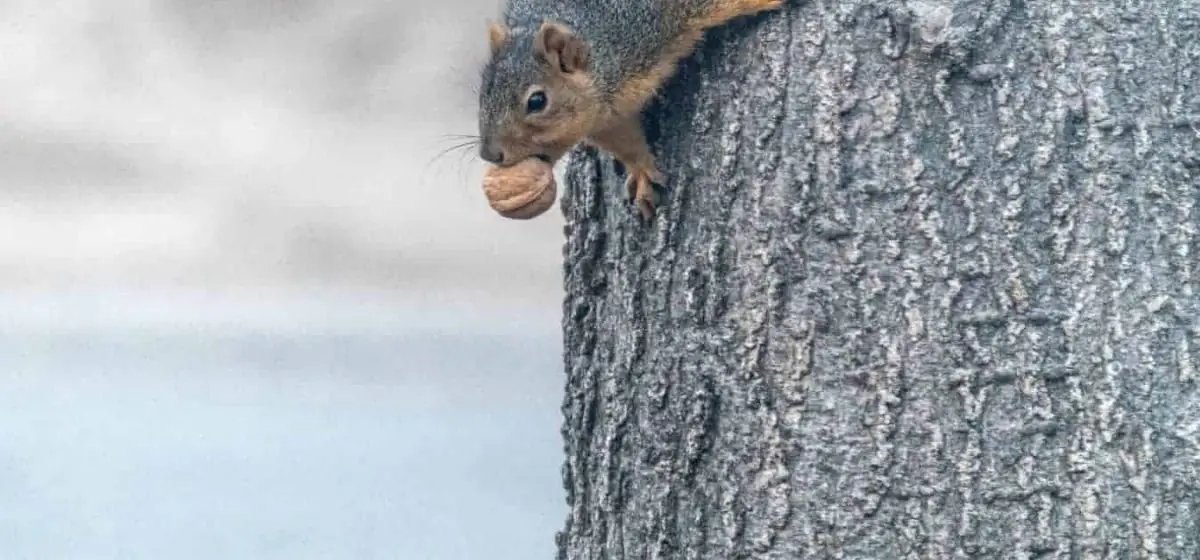 You want to attract and feed birds in your own backyard. You spent hours researching what birds are common in your area. You purchased the right foods to attract them, and you set up your feeder. You're excited and happy. It seemed like such a noble task that would prove to be many happy hours watching birds come to your backyard feeder as you observe from the comfort of your home through a window.  What could go wrong?
Squirrels!
That's right! If there is food around, squirrels will find it. Anyone with even just a few minutes of bird watching experience will be able to tell you that the first wildlife to find your feeder will probably be a squirrel.
Let's face it, squirrels may look adorable, but don't let their bushy tail and dark, sweet eyes fool you. They are still rodents. They just happen to present themselves in a more adorably furry way. However, these little furry rodents with personality become bothersome in no time as they use their acrobatic skill to get at the food intended for your feathered friends to find. Instead, these squirrels tend to find it quickly and not only devour the food meant for the birds but also scare the birds away. It;s maddening and causes many would-be bird watchers to give up.
The good news is that there are squirrel proof feeders, poles, and baffles to keep them at bay so the birds you want to attract find your food and feel safe enough to stick around long enough for you to enjoy watching them in your own yard. These gadgets are designed to work in three different ways.
First, consider the squirrel proof feeder that may be designed in a number of different ways. Mostly, the feeders detract squirrels by offering holes that are fit for a bird but not a squirrel to get at the food. Some use wires to fence off the food from squirrels while allowing birds to still feast. Others use a small shock delivered to the squirrel when he attempts to pilfer the bird feed. Some shut off the food openings when the weight of the squirrel triggers the switch. Others spin the squirrel off.
Poles and baffles are another way to deter squirrels by keeping the food out of their reach. The baffles are placed around the pole or the bird house and acts as a topsy-turvy ejection seat when a squirrel lands on it, it tips knocking them off. Others are shaped in a way to make it difficult for the squirrel to climb up it.
When the feeder is placed on a pole instead of tree branches, it makes it harder for a squirrel to travel from limb to limb which they are quite good at. But, which ones are the best? And, which ones really do what they claim to do by keeping squirrels out of your bird feeder?
What is the best squirrel proof feeder?
A squirrel-proof feeder is specifically designed to deter squirrels from stealing the food meant for the birds. This is done is a few different ways, but the main difference from conventional feeders is that they are meant to keep squirrels at bay. Either, a weighted system that senses the squirrels' weight to close off feeding ports, send them spinning, or even provide a small non-harmful electric shock are a few of the methods that are attempted to keep these bushy-tailed pests away. 
Keep in mind that no squirrel-proof feeder is going to be one-hundred percent fool proof. Squirrels, after all, are clever and acrobatic. If you leave them with a loophole, such as a nearby porch railing you failed to consider, they will take full advantage of it. Let's take a look at ten of the most popular squirrel proof bird feeders available along with their selling points as well as possible negatives to each model.
The Droll Yankees Squirrel Proof Feeder design is truly built to be keep squirrels away. It's among the very best anti squirrel bird feeder available. It may even be a bit entertaining to watch since the squirrels are not harmed. They are just strongly discouraged from trying to steal the food after loosing their grip and gently tossed from the bird feeder as it begins to spin. The design keeps squirrels from passing through the rotating feeder. When a squirrel tries to hop up to the feeder in an attempt to feast or nibble, the furry thief will be shoved away unable to perch. The feeder will spin them off. 
The bird feeder is motorized with a weight activated squirrel proof system. When it senses the weight of a squirrel and begins to spin, the birds are able to fly away while the squirrel is forced to give up or be flung off. The feeder has the capacity to hold up to five pounds of seed with four evenly distributed ports. The tube is UV-stabilized poly carbonate, and the perch base and cap is made of powder-coated metal. The cap is designed to fit tightly on top of the tube to keep squirrels from getting clever and trying to reach it to get to the seed inside.
With squirrel buster in the actual name, this feeder is designed with the idea of keeping pesky busy tailed thieves away while still providing a safe place for birds to eat. The best part is that there are no tools needed to set it up. It is easy to hang up and be ready in no time for birds. The weight of a curious squirrel will trigger the mechanism to close. The feeder holds up to ¾ quarts of bird seed of a nice variety to attract the birds you want to watch. You are then in control of what size of bird you want to feed by adjusting the built-in spring mechanism. 
If a squirrel does try to outsmart it, the negative grip tube will be another deterrent since the squirrel won't be able to grab the wire hanger to hang down alongside the feeder. The ventilation system is designed to keep the seed fresh for the birds with very little seed waste. It comes with a lifetime service guarantee. All of the parts that are exposed for squirrels to potentially find are made of chew proof materials. The feeder is easy to clean or sanitize in your dishwasher and comes with stainless steel perches and hanger.
It may look like a sweet little house, but it will provide a haven for bird watching while keeping pesky squirrels away. The feed is completely enclosed under the roof of the feeder, and it's made of sturdy steel so gnawing teeth can't destroy it. If a squirrel jumps on top, the weight will automatically shut off access to the seed. If the squirrel tries to get to the feed on the perch, it will seal off access with a metal shield as soon as his paw steps down onto the perch. It also has features like double sided entry, a seed saver baffle, and adjustable weight settings. 
Adjust for three positions to welcome light, medium, or heavy birds to the perch. It is designed to hold up to 12 pounds, that's 2 gallons, of seed, so you don't have to constantly refill it. When you do need to add more seed, the locking top is convenient to open for refilling or to easily clean it and then swing the lid closed to secure the locking latch. Add a little petroleum jelly or oil to the top of the feeder to make it even more squirrel proof. The baffle design will save you seed. The bird feeder comes fully assembled with a steel hanging rod and a 5-foot sectional pole kit if you choose to pole mount the house.
This Stokes Squirrel-X feeder is the perfect solution for suet-eating birds. The feeder design is made to keep squirrels out while still making it easy to clean and fill for you to keep fresh suet cakes available for the birds. Then sit back and enjoy watching your favorite birds come to eat. It provides a metal cage with spaces that are big enough for birds to fit through to reach the suet but too small for squirrels. The double-suet holder inside keeps it filled for longer before you need to replace the suet.
 The feeder prevents large birds who may act like bullies from getting to the suet and harassing the other birds. The lid is made of weather-resistant steel and powder coated. The feeder is colored brown to blend in with nature and attract birds to the four ports where they can perch safely to eat. The open case lets air flow evenly to keep the feed fresher longer.
This squirrel-proof feeder offers a patented removable bin to make it easy to fill up with seed. Hold up to 11 pounds of seed in the easy-to-remove seed bin that is also a cinch to clean. This feeder keeps squirrels out making it difficult for them to get to the seed since the stainless steel spring adjusts to keep them away. It will also keep larger bully birds away as well. The appearance is a gorgeous Green River Texture color that blends in with the colors of nature. Hang the feeder from a tree or buy a pole to place it high and away from squirrels.
If you like the look of a traditional birdhouse that comes in green or barn red, this one is a good choice to accent your back yard while attracting and feeding your favorite feathered friends. This house-like design is beautifully welcoming while made with practical use in mind. It is weight activated to protect the seed by covering the ports when it senses the weight of a squirrel, which is much heavier than the lightweight birds. It's effective in keeping squirrels away. 
When the squirrel hops on top of the feeder since its weight will activate immediate seed protection that closes off the feeding ports. Lift the lid, and easily fill it with up to 8 pounds of seed. Hang from a pole for ideal placement so long as it's far enough away from any branches or ledges where a squirrel may be able to acrobatically stretch to reach the seed, tricking the weight mechanisms. Keep it clean to attract and keep birds coming by checking it once a week for mold or insects, and simply wipe it down with a mild soap and water solution.
What a nice looking bird feeder and well-built too with its powder-coated finish steel cage and metal leaf accent design. It will look like it belongs in the trees or anywhere out in nature. Besides looking great, the feeder offers six ports for birds to perch and feed from. The cage is activated by the weight of a squirrel with ports small enough for birds to sit and eat. The steel material prevents chewing damage as well. When the weight of a squirrel is sensed, the cage is activated to close off the feeding ports. 
Birds are lightweight enough so as not to trigger the lock down on the U-shaped perches that allow for several birds to feast at one time on the evenly spaced feeding port. The feeder is also designed to preserve the seed with its built-in drain holes in order to prevent pooling of water inside the reservoir which could lead to mold or seed spoilage. The bird feeder comes already assembled and ready to go. Simply hang it away from ledges and branches using the built-in cord. Just fill it up with up to 2 pounds of seed.
This feeder is effective but may not be for the sensitive animal lover to use since the way it works is that it uses a small shock to frighten squirrels away. No worries of the shock harming them, but it will deter them from raiding the bird feed. This feeder comes in an 8-bird or 12-bird feeding station to accommodate your yard size and bird watching needs. Possibly one of the most effective feeders out there to be successful in keeping squirrels away, though some may find it difficult to use since it does send an unpleasant shocking sensation to the squirrel once it senses its weight.
 This means a curious raccoon or other unwanted guests may be heavy enough to stumble upon it and run away as well after receiving a slight shock. The shock used is an electric shock, powered by a 9-volt battery, that is too small to do permanent harm to the animal. Since it is quite effective in scaring away squirrels, you can usually hang this feeder from a tree without worrying about pesky invaders from the squirrels.
Attract beautiful birds, like cardinals, bluebirds, or finches and get a front-seat view while they feast. One sure way to keep squirrels away is to mount this clear feeder to a glass window. The glass will keep the bushy-tailed pests away since they cannot climb on the glass. Another benefit to this type of feeder is that you get a birds' eye view from inside your house. Simply look out the window and watch the birds eat. It's easy to attach to the window with stay-in-place suction. Stick it to the center of the window glass for best results. Just make sure the window isn't next to a deck or porch rail. Otherwise, they will be clever enough to figure out how to attempt to reach the seed if they can stretch far enough.
What is the best squirrel proof feeder pole?
In addition to squirrel proof feeders, some poles are designed to keep squirrels away. Many feeders require a pole to stand upright and it is recommended that these have anti-squirrel features. 
To effectively deter squirrels, these poles need to be tall enough to keep the bird feeder high off of the ground and placed far enough away from branches or any flat surfaces such as decks, railings, fences, or roof lines where squirrels can stretch and jump from to reach the feeder. Here are five of the best squirrel proof feeder poles you can buy.
Feed several birds at once when you are able to securely hang two feeders instead of one. Use this heavy-duty, rough iron pole to hang bird feeders far away from ledges or branches. This one comes with two arms on top for hanging two separate bird feeders. It also has a 14 ½ cylindrical squirrel baffle that comes with it to keep squirrels away. The pole comes in easy-to-assemble pieces that include a ground twister for secure installation. Twist it into the ground about eight to ten inches to secure the pole. 
Then, simply assemble the three pole sections to fit together, a squirrel baffle, and the top that has two arms to hold the feeders. Now, you're ready to fill your dual feeding station and wait for the birds to arrive without the fear of a furry, bushy-tailed pest bothering their seed.
Feed even more birds with a secure, safe, squirrel-deterring pole set. Keep squirrels away while being able to mount up to four bird feeders at once. This pole not only does the job of keeping squirrels away, but it looks great in any yard. It comes with an inverted cone-shaped baffle that is adjustable. The pole is sturdy and made of 16-gauge steel to stand up to weather and squirrel chewing. The initial price tag may be a bit of a shock, but most buyers of this specific pole model design say it is well worth the value. Make sure you place it five to six feet above the ground away from ledges where clever squirrels will be able to stretch acrobatically to reach it.
Why place a simple pole in the ground when you can purchase an entire bird feeding station to keep squirrels and other pests away. This kit is made of high-quality, heavy-duty material. Enjoy this feeding station made from 91" x 23" strong iron components. Simply screw it together and place it in your yard far away from ledges or branches to keep squirrels away and attract plenty of birds who will be able to safely feast as you watch. The kit includes five prongs where you can mount feeders and a watering and bathing station as well as a metal suet feeder, water dish ring, decorative hooks, and a detachable mesh tray. The metal stake base adds more stability and easy placement.
Go simple yet attractive and strong to get the job done with a traditional shepherd's hook. Some prefer an all out fancy feeding station with all of the bells and whistles, while others find that a simple, yet sturdy, shepherd hook works great. This one is 92 inches high with a more than half an inch diameter with 12-inch wide hooks from where you will be able to position bird feeders up and away from pests. The pole is made of super quality steel construction with powder coating to stand up to weather and squirrels gnawing. Add your own squirrel baffle to make this pole squirrel proof to protect your bird feeder from pests.  It comes with a lifetime guarantee that offers a complete refund if you are not satisfied for any reason.
The Squirrel Stopper Denali Squirrel Proof Mounting Pole System is designed to hold the heaviest bird feeders while keeping squirrels at bay. It comes ready-to-assemble in four easy-to-put-together pieces and uses a mounting flange that is included. The galvanized material stands up to weather and resists rust. It comes ready to install with a heavy-duty auger. It is designed with 1 1/2" diameter tapers to the universal 1-inch diameter top. Add the squirrel baffle that comes with patented spring technology to make it all the more squirrel proof.
What is the best squirrel baffle?
An additional way to deter squirrels is to use a baffle. These baffles come in a few different designs that either tip the squirrel off from the top, blocks them from climbing up a pole to reach the seed, or uses a torpedo shaped deterrent that keeps the squirrel from being able to successfully grip the pole. While the baffle is not a fool-proof guaranty that your squirrel will give up in trying to snatch the bird feed, it does make it more difficult and discouraging for the squirrel. Though, be warned that some innovative and cleverly determined squirrels will enjoy the challenge. Equally, you may find the baffles entertaining to watch as well.
This company makes squirrel baffles in different sizes, but this 18" design is a nice size to prevent squirrels from getting to the bird seed. Place it around your bird feeder mounting pole and deter squirrels as they lose balance and fall off. Some bird-feeding experts have dubbed this design the cone savior. It's easy to set up by placing it around the pole underneath where your bird feeder is hung or mounted. It is made of textured powder steel which means squirrels will not be able to chew on it.
This odd-shaped design is different from the traditional baffle in that it is shaped like a torpedo to prevent squirrels from climbing up the pole if they hunt to steal food from the birds. A curious squirrel will climb up the pole as if it were a tree branch and find themselves inside the torpedo baffle. They then turn around and go inside the torpedo and try to grab its slick surface to no avail, and the moving bottom end confuses them as it pivots on the mounting clamp in the cone area. 
For best results, install it at least four to five inches above the ground. It is made of textured powder-coated steel and comes with a mounting-coupler to attach to any pole. Simple slide it on and adjust it up or down into position
Deter squirrels while not hindering your viewing of the birds. This clear squirrel baffle discourages squirrels and other pesky animals from getting to the seed inside the bird feeder beneath. It can be used to hang from a pole or for pole mounting above a feeder. It stops squirrels from stealing the bird feed but it also protects the seeds from rain and other weather elements as it covers it like an umbrella. It is, however, made of plastic, so it might not stand up to brutal treatment that a large squirrel will throw at it.
What different type of squirrel proof feeders are there?
There are a few different methods of going about keeping squirrels at bay and away from your birdseed including a weighted method, cage-like features, spinning mechanisms, or electric shock.
One type of squirrel proof feeder uses the weighted method. Squirrels are relatively heavy compared to even the largest bird. A typical gray squirrel weighs about 14 to 29 ounces whereas one of the largest birds you will probably attract to your feeder, the Blue Jay, weighs about 3 oz. When a certain amount of weight lands on the feeder, a mechanism is triggered that shuts off the openings to the food so the pesky rodent cannot get to it. When the weight of the squirrel lifts, the ports reopen so birds can freely eat once again.
Another type of squirrel proof feeder uses a cage-like feature. The feeder is surrounded by a metal cage that has openings large enough for small birds to get through to feast but too small for a squirrel to get in. The main drawback to the cage feeder is that larger birds are also kept away since they are too large to fit through the holes in the cage as well.
Some squirrel proof feeders are battery operated to spin when the weight of a squirrel is detected. It essentially becomes a carnival ride, flinging the rodent off of the feeder without harming them.
Finally, there is the option of electric shock method. Again, it uses weight triggers to set off a small frequency of an electric shock that will not harm the squirrel but should deter the furry rodent from trying to eat the food.
What to look out for in a squirrel proof feeder?
Before you rush out to pick up the first feeder claiming to be squirrel proof and expecting it to work right out of the box, there are some things every bird lover should look for. Don't grab the most inexpensive one you find because you will most likely wind up needing to replace it and paying even more in the long run. Find one that will stand up to the changing weather, sun, and rain as well as squirrels and other backyard pests. Realize that birds eat half their weight in seeds every day, so get a feeder that holds at least two pounds of seed so you don't have to constantly fill it.
Think about the bird, and select a feeder that does not have sharp points or edges. Choose one that lets the birds perch away from the food to keep the food clean from droppings. Make sure you do your best to set up a squirrel-resistant feeder from the start, and then keep it clean. Another consideration is going to be where you place the feeder. Put it up in a location that will attract birds but far enough away and high enough to keep pesky squirrels and other pests away.
Where should you hang a squirrel proof feeder?
When selling your home, your real estate agent is going to probably tell you that the most important factor is "location, location, location". While this sounds redundant, location is one of the most important factors when considering where to hang your feeder to make sure it is squirrel proof. This is the time when it is going to be important to think like a squirrel.
Look around and carefully canvas the area around the feeder to look for any surface where a bushy-tailed rodent might be able to secure footing to stretch or jump from to reach the bird feeder. Make sure you hang your feeder far enough away from any such surface. Squirrels are quite the acrobat, and they can stretch and jump as far as about 10 feet. When you hang your squirrel proof feeder, make sure it is at last 12 feet from any trees, fence lines, porches, decks, or even roof lines. Some even suggest as far as 18 feet. Hanging it off of a pole that is at least 6-feet tall is a great option to make it easier to keep it out of reach of squirrels. 
The taller the better, though squirrels are great climbers. If they are able to make it up a branch or a pole where our feeder is located, they will devour the seeds and scare the birds away. The most important thing to keep in mind is to place your bird feeder up high and away from squirrels and other pests.
What is the best feed for a squirrel proof feeder?
The best bird-attracting seeds include nuts, suet, and black oil sunflower seeds. Unfortunately, these also draw squirrels to your feeder. Squirrels are going to be less interested in Nyjer or safflower seeds. Both of these seeds are a quite a bit bitter to the squirrel. Another solution can be putting cayenne pepper on birdseed. The heat will deter the squirrel, but the birds will not be bothered by it. The downside to this is that rain can quickly wash it away, and then you have to constantly reapply. 
Some pet stores do sell suet that has been treated with spices intended to specifically turn off squirrels. When all else fails, set up a special feeding station for the squirrels set far away from the bird feeder so both can feast separately.
How to clean a squirrel proof feeder?
Hopefully your bird feeder is designed to easily take it apart for cleaning. If not, you will still be able to wash it by hand with a solution of dish detergent and warm water. If necessary for further cleaning or sanitation, you can use a vinegar solution. Never use bleach as it will be harmful to the birds and will leave a residue on the feeder. Rinse it with a solution of 20 percent white vinegar and 80 percent water. 
The vinegar acts as a mild, natural disinfectant that will not harm your feeder or the birds. Some feeders are dishwasher safe. If yours is, place it in the dishwasher by itself on the top shelf and not with dishes you plan to eat off of later.  You may even want to run an extra sanitizing cycle before filling the dishwasher with your family's food dishes.
To make sure the bird feeder is cleaned sufficiently, use your regular dishwasher detergent, and choose the high temperature drying or air dry option on a regular washing cycle to sanitize it.
Can squirrel proof feeders attract mice?
Unfortunately, even if you successfully squirrel proof your bird feeder, there is a chance of attracting mice, especially if food drops out of it onto the ground. To avoid this, use baffles that prevent rodents from climbing up the pole, and put feeders up high avoiding ground feeders. Also, use a seed tray to catch the seeds that birds naturally drop as they eat.
Another option is to choose no waste bird food that reduces the amount of wasted dropped food. Choose hulled seeds, sunflower hearts, shelled peanuts, and millet that is hulled as well as suet, nectar, thistle, cracked corn, or a shell-free seed mix. The most effective way to keep mice away is to keep the area under the feeder clean. Regularly sweep up seeds and hulls that have fallen to the ground. Also, be sure to store your bird feed in an air-tight container away from where rodents might be able to get to it.
Keep the bird feeders away from your house, and carry the container directly to the bird house to scoop food for refilling to avoid mice getting into your garage or home to find the food.
We are avid bird-watchers who recently retired, allowing us more time to travel the world. Fortunately, we have managed to visit numerous countries around Europe, Asia, and America. Watching and photographing birds has been a passion for many years and we are making the most of the extra time on our hands!